This is an archived article and the information in the article may be outdated. Please look at the time stamp on the story to see when it was last updated.
CHICAGO — Saturday's snowfall was officially a record-breaker, as 2.5″ of snow recorded at O'Hare is the greatest single-day storm and storm total ever recorded at Chicago's official site so late in the season, since snowfall records began 134 years ago!
The previous late-season snow record of 2.2″ was recorded on May 1-2, 1940.
Initially, rain spread into the Chicago area from the west Saturday morning, but between 10 a.m. and noon locations north of I-80 were experiencing a rain mixed with snow, which became wet snow mixed with ice pellets during the afternoon into the late evening hours. Precipitation was mostly rain south of Interstate-80.
Snow accumulated gradually, as much of it melted as it fell on objects at the surface, but by evening significant accumulations were noted, especially west and northwest of Chicago. With clear skies, the GOES-16 satellite view of the snow covered area below is quite spectacular.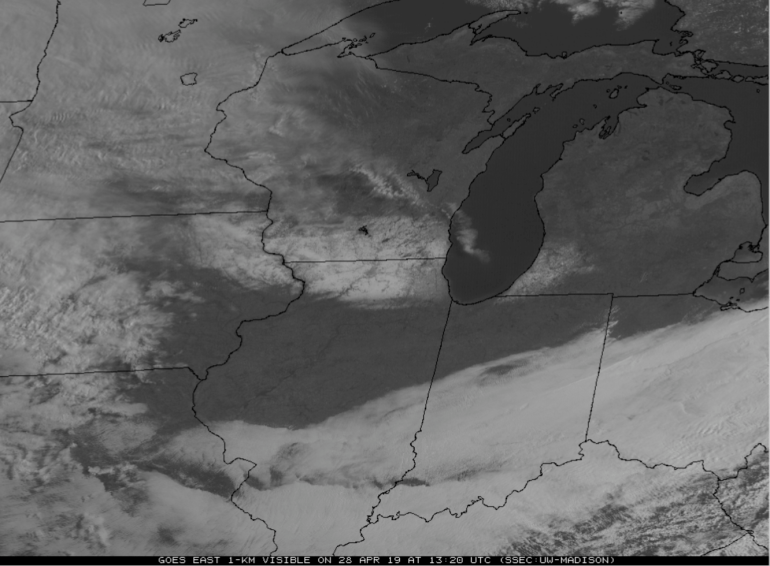 The snow was waterlogged and incredibly heavy and difficult to shovel because of its weight, making it true "heart attack" snow. Frank Wachowsi reports the 1.04″ of water in the 1.7″ of snow which fell at Midway means its snow/water ratio was 6.3 to 1, well beyond the 12 to 1 snow/water ratio which is typical.
The water content of the snow was even more eye-catching at Oak Forest, where WGN meteorologist Mark Carroll reports the 0.3″ of snow which fell contained 1.13″ of water, an astounding 2.7 to 1 snow snow water ratio.
The greatest snowfall reported was 6.5 inches at Winnebago, with a site NW of St. Charles at 6.0 inches and Campton Hills with 5.8 inches.
Here are some official snowfall orders compiled by the Chicago National Weather Service as of 7 a.m. Sunday:
Midway: 1.7 inches
Rockford airport: 3.7 inches
Romeoville/NWS: 0.4 inches
Winnebago: 6.5 inches
Machesney Park: 5.5 inches
Belvidere: 5.0 inches
Huntley: 4.9 inches
Cherry Valley: 4.3 inches