This is an archived article and the information in the article may be outdated. Please look at the time stamp on the story to see when it was last updated.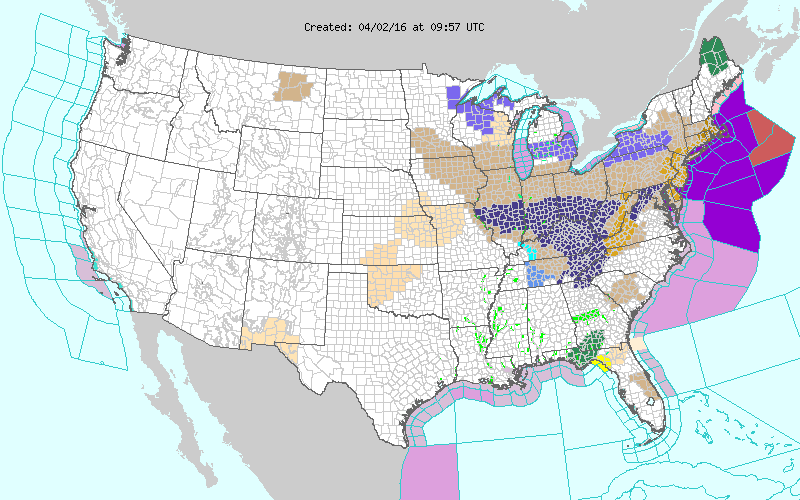 CHICAGO — The entire Chicago area is under a Wind Advisory calling for northwest winds 25 to 35 miles per hour with gusts to 50 miles per hour or higher from 9 a.m. CDT this Saturday  morning until 7 p.m. CDT this evening. Wind Advisories are in effect for a broad extended swath of the north-central and northeast United States from southern Minnesota through portions of Wisconsin and Iowa , most of Illinois, Indiana, the Ohio and even the Tennessee Valley today into the Appalachians tonight and New England Sunday (see broad brown-shaded area on the highlighted warning map above).There will be blowing debris, and lighter, high-profile vehicles will be especially vulnerable to these strong winds.
A fast-moving, deepening low pressure system is forecast to move from Wisconsin into Lower Michigan across Lake Erie this afternoon, and Pennsylvania into New England tonight into Sunday. The associated cold front will swing through our area this Saturday morning with winds shifting to the northwest and gusting to 50 mph today, finally diminishing toward evening. The same scenario will play out in other areas as the low pressure sweeps east.
A Gale Warning is in effect for the southern half of Lake Michigan (shaded in light-purple on the map above) calling for northwest winds to 50 knots driving 10 to 15-foot waves from 10 a.m. CDT this morning until 10 p.m CDT this Saturday evening.
Temperatures are expected to drop into the mid to upper 20s across the Chicago area Sunday morning, but Freeze Warnings have not been issued, because it is still early in the Spring season here, and readings that low are not that unusual for early April.
More info: chicagoweathercenter.com.