This is an archived article and the information in the article may be outdated. Please look at the time stamp on the story to see when it was last updated.
Much cooler and more importantly drier conditions are expected Friday and into the weekend.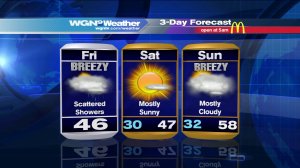 As the cooler air move into the region today light scattered showers may develop, especially during the afternoon hours.
It will feel more like March than April with afternoon highs in the mid-40s.
Decreasing clouds are expected tonight and mostly sunny skies are forecast for Saturday.
We'll remain on the cool side with highs only in the upper 40s.
Warmer weather is expected Sunday and Monday, but very small chances for a few showers will return to the area as well.