This is an archived article and the information in the article may be outdated. Please look at the time stamp on the story to see when it was last updated.
The Chicago National Weather Service Forecast Office has expanded a Winter Weather Advisory (purple-shaded area on highlighted map) farther south over the Chicago area calling for 3 to 6-inches of snow beginning in western portions later this evening and spreading east across the remainder of the area tonight. Accumulating snow will continue Monday/Monday night into Tuesday morning, gradually ending from west to east.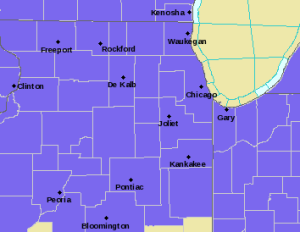 Travel will directly impacted, especially affected will be the Monday morning and evening commute as well as the Tuesday morning commute with snow-covered roads and highways and slowed/dangerous driving conditions. If you plan to be driving during this period, make plans for a longer and slower drive. We are somewhat unaccustomed to this much snow  – its been almost three months since we have received a significant snowfall. If you plan travel out of our area, the heavy snow is forecast to fall in all directions, tapering off the farther south you go into central Illinois.
Note that the Chicago area is positioned in the southeastern portion of a band of snow that extends from the Dakotas through portions of Minnesota and Iowa through Wisconsin and Illinois into Lower Michigan and Indiana (see purple-shaded area on map below). Heaviest snow of 6 to 9-inches is anticipated in primarily southern Minnesota and northern Iowa (pink-shaded area on map below). Snow will begin earlier today in the areas to the west, spreading into our western portions later this evening – overspreading Chicago and northwestern Indiana later tonight.