This is an archived article and the information in the article may be outdated. Please look at the time stamp on the story to see when it was last updated.
CHICAGO — A Winter Storm Warning calling for 6-12 inches of snow in counties along and north of the Interstate-80 corridor is in effect, beginning this Thursday evening and ending Friday evening (6PM Thursday to 9PM Friday).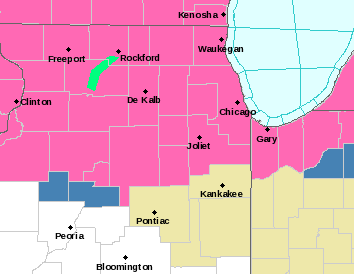 The heavy band of snow spreading over northern Illinois will make travel during that time "very difficult to impossible," the National Weather Service in Chicago tweeted on Thursday.
Heavy snow is expected to spread across northern Illinois early this evening, then continue into Friday. Travel tonight into Friday will likely be very difficult to impossible at times. Avoid any unnecessary travel. pic.twitter.com/JqOCoUWpz5

— NWS Chicago (@NWSChicago) February 8, 2018
Avoid or minimize travel during this time period, if possible.
Snow will spread into our area from the west early Thursday evening, beginning to accumulate and making roads snow-covered and slick toward the end of this evening commute. By midnight snowfall totals could easily be between three and four inches, and could reach six to eight inches by 6 a.m. Friday.
Accumulations will continue Friday, impacting both the morning and evening commute, with snow gradually diminishing and ending from the west Friday evening.
The core of the heaviest snow will likely lay-out between Interstate-88 and Interstate-90 including Chicago. Some locations could end up with over a foot of snow. Snow will extend north into the southern portions of Wisconsin and lower Michigan, while  snow totals will taper off quickly in areas farther south.
The center of the storm system will track east-southeast out of Montana and South Dakota pretty well following along and north of the Interstate-80 corridor through Iowa, Illinois and Indiana (note Winter Storm Warnings/Advisories depicted on the map below.