This is an archived article and the information in the article may be outdated. Please look at the time stamp on the story to see when it was last updated.
Update 10:45AM CST…
The Winter Weather Advisory for Freezing Rain has ended, as temperatures have risen well above the 32-degree mark at most locations over northeast Illinois. Readings should continue a very slow rise, despite the continued widespread showers and patchy dense fog.
__________________________________________________________________________________________
CHICAGO — Rain is moving through the area creating slick and icy road conditions for the morning commute.
Rain to freezing rain in the north and northwest burbs. Parts of DeKalb and Kane possibly slick too- more on those areas coming up now on @WGNMorningNews pic.twitter.com/lV43tn1rlb

— Morgan Kolkmeyer (@MorganKolkmeyer) February 7, 2019
Parts of McHenry County — specifically central and northwest — is reported to have extremely icy conditions due to freezing rain.
Part of McHenry County, especially central and northwest.. have got to be a sheet of ice. Take it easy. Parts of Lake Co slick, too! @WGNMorningNews pic.twitter.com/5Xiq1w99Bs

— Morgan Kolkmeyer (@MorganKolkmeyer) February 7, 2019
A number of accidents have been reported across the area. Allow extra time and drive with caution.
With temperatures hovering around the 32-degree mark, a Winter Weather Advisory (purple-shaded counties on the headlined map) for freezing rain continues until mid-morning in general for the area well west and north of Chicago and along/north of Interstate-88.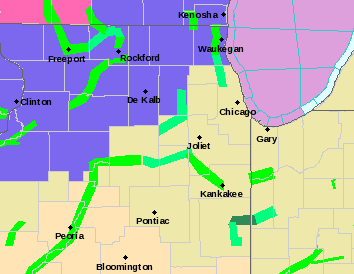 If traveling or outside this morning, be alert for slick spots, especially on untreated surfaces in the Advisory area.
A center of intensifying low pressure will track out of Missouri northeast today, passing over Chicago early afternoon, through Lower Michigan into Ontario Canada by this evening.
Temperatures will slowly rise this morning with showers and thunderstorms possible much of the day – even a few severe storms could occur directly south and east of Chicago (see Slight to Marginal risk area outlined on the map below).
Very strong west to northwest winds gusting to 40 mph will signal a change to much colder conditions behind the departing low pressure. Rains will cause additional rises on area rivers, note Flood Warnings/Advisories in green on the headlined map.