This is an archived article and the information in the article may be outdated. Please look at the time stamp on the story to see when it was last updated.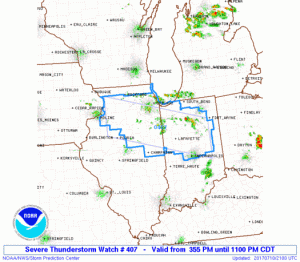 Update 7PM CDT…
The Severe Thunderstorm watch has been cancelled
for Cook, DeKalb, Kane, DuPage, Lee and Ogle Counties.
__________________________________________________________________
The NWS Storm Prediction Center has issued a
* Severe Thunderstorm Watch for portions of
Northern Illinois
Northern and Central Indiana
Lake Michigan
* Effective this Monday afternoon and evening from 355 PM until
1100 PM CDT.
* Primary threats include…
Isolated very large hail events to 2 inches in diameter possible
Isolated damaging wind gusts to 70 mph possible
A tornado or two possible
SUMMARY…Scattered strong thunderstorms are expected to develop
across northern Illinois over the next few hours. This activity
should mature and spread southeast into Indiana with an attendant
threat of large hail and damaging winds this evening.
The severe thunderstorm watch area is approximately along and 50
statute miles north and south of a line from 60 miles north
northwest of Peoria IL to 5 miles east northeast of Muncie IN. For a
complete depiction of the watch see the associated watch outline
update (WOUS64 KWNS WOU7).
https://cdn.trb.tv/wgn-ftp/wximages/WGNTV_Radar_Regional_A.gif