This is an archived article and the information in the article may be outdated. Please look at the time stamp on the story to see when it was last updated.
Update 2PM CDT…
The forecasts for 2 to 4-inches-plus rainfall this coming weekend remains unchanged. The earlier maps were updated – now running from 7PM Saturday to 7PM Sunday showing a rainfall range of 1.5-inches to 3-inches across the Chicago area, and  7PM Sunday to 7PM Tuesday displaying a range of a half-inch far west to a little over an 1-inch east.
_________________________________________________________________________
An expanding low pressure system is forecast to move northeast out of the Texas Panhandle spreading showers and thunderstorm downpours over the Mississippi and Lower Ohio valleys into Illinois, Indiana and the western Great Lakes this weekend. A band of showers/thunderstorms could pass over our area in advance of the main system on Friday, but the more substantial, extended period of heavier rains here currently is scheduled to arrive later Saturday and continue through Sunday into Monday. Rainfall totals could easily range from 2 to as much as 4-inches-plus before it finally winds down later Monday, leaving widespread ponding, localized flooding and rising rivers in its wake.
Looking at guidance prepared by the National Weather Prediction Center Qualitative Precipitation Forecast Branch, Friday's rainfall could range in the tenth to 2-tenths range. The maps below depict projected rainfall totals from 7AM Saturday to 7AM Sunday and 7AM Sunday to 7AM Tuesday respectively. The delineating lines are somewhat difficult to discern, but indicate as much as 3-inches south to a half-inch north in the 7AM Saturday – 7AM Sunday time frame. The 7AM Sunday – 7AM Tuesday map depicts another inch and a half across our area. Combining the two could give a Chicago-area range of 2-inches north to over 4-inches south during the Saturday-Monday period.
Rainfall Forecast 7PM Saturday – 7PM Sunday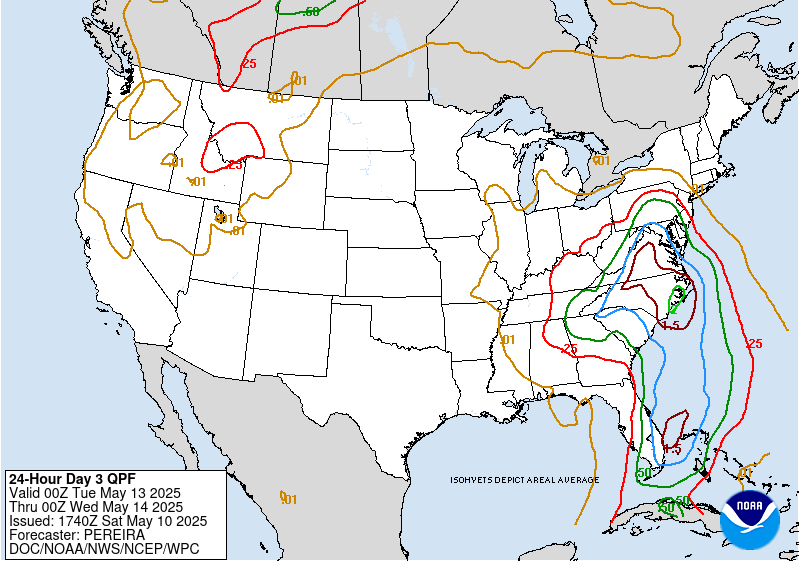 Rainfall Forecast 7PM Sunday – 7PM Tuesday