This is an archived article and the information in the article may be outdated. Please look at the time stamp on the story to see when it was last updated.
A Severe Thunderstorm Watch has been issued for several Chicago area counties until 2 a.m.
Counties include Boone, DeKalb, Grundy, Kane, Kendall, La Salle, Lee, McHenry, Ogle, Winnebago.
A Severe Thunderstorm Watch has been issued for counties west of #Chicago. #ilwx https://t.co/R1FQDodqUe

— Mike Janssen (@MikeJanssenWX) September 12, 2019
An unstable, moisture-laden atmosphere in the vicinity of a warm front, coupled with a  pronounced radar rotational signature, has prompted the warnings.
At 4:15 pm the storm was located near Hinckley moving east at 15 mph. Numerous severe weather spotters are monitoring the storm, but so far have no severe weather to report.
However, the storm has weakened below severe limits, and no longer appears capable of producing a tornado. Therefore, the warning has been cancelled. Thunderstorm Watch issued for Chicago areaHowever, gusty winds are still possible with this thunderstorm.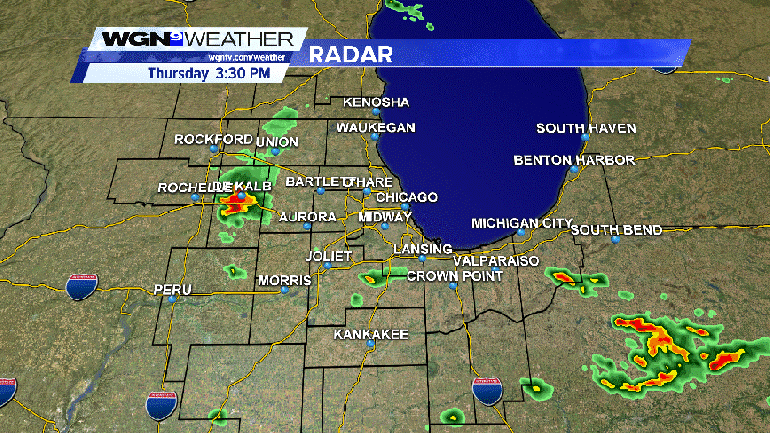 The entire Chicago area remains under a  slight or marginal risk of severe thunderstorms through tonight.
More storms could develop along a warm front as it moves further north, and the cool air along the lakefront will likely have the front lined up at a northwest to southeast orientation.
These storms keep all severe threats possible, including tornadoes. A Marginal to Slight risk for severe storms continues through tonight.
Along and ahead of a cold front arriving overnight, we expect to see numerous showers and thunderstorms. The overnight storms bring a threat of damaging winds up to 60 mph, 1" in diameter hail and a risk of flooding. Storms could linger to near daybreak Friday.