More clouds and snow in the forecast
Wednesday's  snow-producing low pressure system will be moving off to the east up the Saint Lawrence Seaway Thursday.  Here in the Chicago area Thursday cloudiness will persist as a couple upper level low pressure disturbances will trigger occasional snow showers.
Snow on Friday
Friday another low pressure system will track to our north along the U.S. Canadian border, but still give us cloudiness and snow showers that could even accumulate up to an inch in spots especially north sections. A little heavier snow is likely across Wisconsin.
Snow on Saturday
Saturday brings a cloudy day with another snow-producing low pressure system approaching our way this time from the west out of the Plains. Snowfall amounts with this system at this point in time are difficult to ascertain, but several inches are certainly in the realm of possibility, as the snow is expected to continue overnight, moving off to the east Sunday.
Another look at the 'atmospheric rivers' that brought heavy precipitation to the West Coast
Recent atmospheric rivers (AR) brought precipitation to the western U.S. The precipitation bolstered seasonal snowpack and improved existing drought conditions. However, the string of atmospheric rivers also caused significant flooding in many locations in California.
NOAA GOES-West Satellite Imagery: January 4, 2023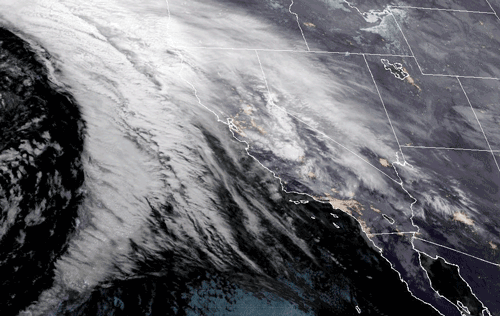 Atmospheric rivers are relatively long, narrow regions in the atmosphere – like rivers in the sky – that transport most of the water vapor outside of the tropics. These columns of vapor move with the weather, carrying an amount of water vapor roughly equivalent to the average flow of water at the mouth of the Mississippi River. When the atmospheric rivers make landfall, they often release this water vapor in the form of rain or snow.
What does this mean for drought?
Short-term drought improves.
These AR events improved short-term drought conditions in California's Central Valley, southern California, and the Sierra Nevada mountains. In the short term, the benefits from these extraordinary storms include ample snowpack, increased top level soil moisture, and filling of reservoirs. Despite the reduction in drought severity, the intensities and rapid pacing of the ARs caused flooding and led to road closures, dangerous travel conditions, debris flows, and evacuations.  
Source: NOAA, NIDIS, Drought.gov