This is an archived article and the information in the article may be outdated. Please look at the time stamp on the story to see when it was last updated.
Update 9:45AM CDT...
The Winter Storm Watch for heavy snow possibly 6-inches or greater for an even greater portion of the Chicago area now includes all northeastern Illinois counties including the city of Chicago along Interstate-80 north to the Wisconsin border for Sunday into Sunday night - in addition to the counties listed previously, the newly added counties are DuPage, Cook, Kendall, Grundy and Will Counties. Heavy wet snow with north to northeast winds gusting over 35 miles per hour causing blowing and drifting is expected to begin in westernmost counties early Sunday and spread east across the remainder of northeast Illinois into northwest Indiana by later in the afternoon. The strong winds and heavy wet snow could not only make driving extremely dangerous, but the winds and weight of the snow could cause downed trees/power lines resulting in power outages. For those returning from distant destinations because of the Thanksgiving holiday, starting the travel back to this area as early as possible is recommended.
____________________________________________________________________________
Travel conditions will be deteriorating from west to east across the Chicago area during the day Sunday, beginning in the morning to the northwest. Rain will change over to accumulating snow which will continue into the overnight hours, as a center of low pressure moves out of Missouri, passing to our south. A Winter Storm Watch (blue-shaded counties on the top map below) for possibly over 6-inches of snow has been expanded and is now in effect for Winnebago, Boone, McHenry, Ogle, Lee, DeKalb, Lake, Kane and LaSalle Counties in northeast Illinois. North to northeast winds will intensify during the day, gusting in excess of 35 miles per hour causing widespread blowing and drifting snow as well as the potential for lakeshore flooding along the Illinois and Indiana Lake Michigan shoreline.
There is still uncertainty on the projected exact track of the storm center, which in turn will be crucial to determining the orientation and location of the heaviest snow band, but the counties under the Winter Storm Watch appear most likely to be hit initially. Winter Storm Warnings/Advisories will likely be issued and may well include more of the area, as the storm track becomes more certain. Several inches of snow could fall over northeast Illinois, generally along and north of Interstate-80, and then over northwest Indiana into Monday morning before this storm system moves off to the east.
On a larger U.S. map Winter Storm Warnings and Advisories are in effect from the northern and central Rocky Mountains through the central plains into northwest Illinois.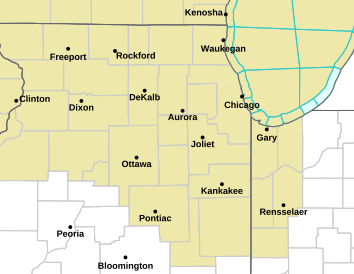 For the latest weather updates, go to wgntv.com/weather.