This is an archived article and the information in the article may be outdated. Please look at the time stamp on the story to see when it was last updated.
CHICAGO — The National Weather Service issued a Winter Weather Advisory for most of the Chicago area Sunday, as accumulating snow is expected to overspread the region from west to east overnight into Monday afternoon.
According to the NWS, between three and six inches of snow are possible from midnight until 2 p.m. Monday in counties across the Chicago region, except Kankakee and Newton in Indiana.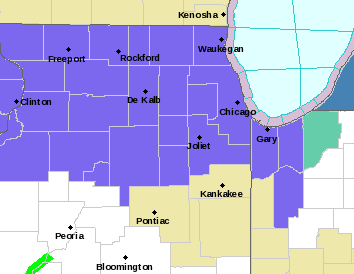 Snow will begin in westernmost sections later Sunday evening and move east across the entire area by early Monday morning. Temperatures falling into the 20s along with northerly winds gusting over 30 miles per hour may create blowing and drifting snow, causing very hazardous driving conditions in some areas.
"Expected Monday morning rush hour to be significantly impacted," the NWS posted on Facebook.
The heaviest snow is expected in northernmost sections, the city of Chicago and in northwest Indiana, although lake-enhanced snowfall could push totals well in excess of the six inches close-in or where a northern wind fetch drives snow well inland over certain areas.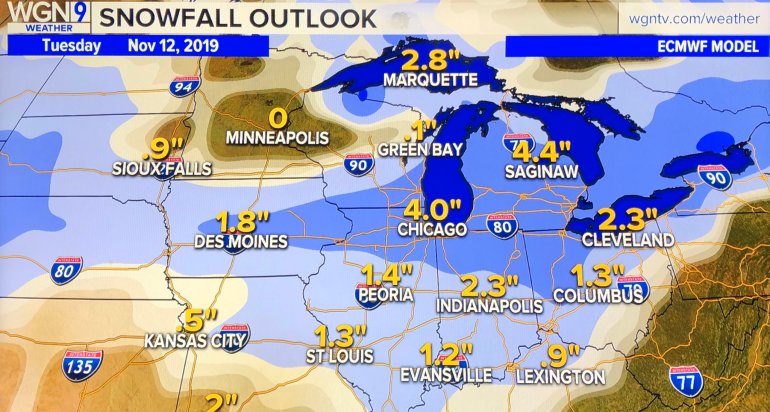 The calendar says early November, but  it will look and feel more like January. The accumulating snow will fall ahead of a frigid early season blast of cold air.
Communities across Cook County are opening warming shelters to those in need in preparation of the cold.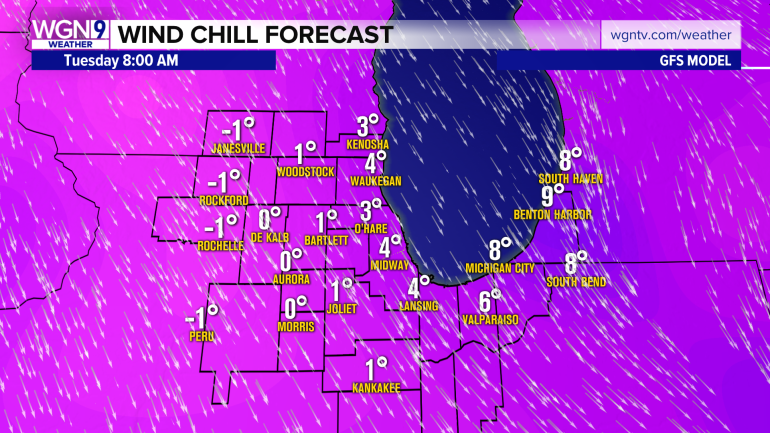 The predicted high temperature of 27 degrees on Monday and 25 degrees on Tuesday (25-plus degrees below normal) would shatter the previous record coldest high temperatures for November 11 and 12, set in 1894 and 1995 respectively.
Chicago will not be alone in the cold weather misery. By all indications, it appears 35 states from the Midwest to the Eastern seaboard are in line to set new cold weather records between Sunday and next Wednesday.