This is an archived article and the information in the article may be outdated. Please look at the time stamp on the story to see when it was last updated.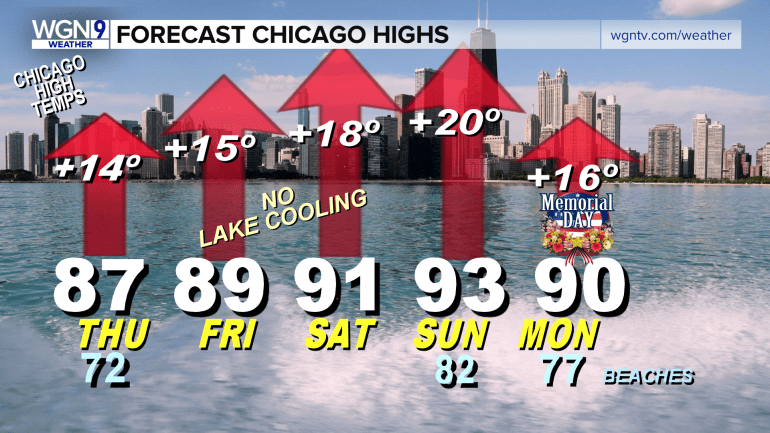 CHICAGO — A huge dome of warm air is building across the nation's mid-section and is to bring the region its warmest weather of 2018 to date.
Memorial Day weekend typically kicks off the unofficial beginning of summer and Mother Nature received the memo this year.
Temperatures are expected to soar into the 90s beginning Saturday, peaking on Sunday when the predicted 93-degree high would mark the hottest May temperature here in six years, since the high of 95 degrees on May 28, 2012. It's also quite a change from one week ago when readings struggled to reach the middle 50s, with the majority of the day spent in the upper 40s.
If you're not a fan of the heat, the best option is to head to the lakefront where light onshore breezes are likely to provide free air conditioning, especially Sunday and Memorial Day.
Increased humidity and a bit of instability could lead to a few isolated thunderstorms late Friday night and again over 20% of the area Saturday and Sunday—but these will be of limited duration and coverage with a majority of weekend hours rain-free if current forecast trends continue.
Early season heat wave underway! Thursday's 87 deg high was the warmest temperature of 2018 thus far. Plenty of more heat to come. If you want free A/C, head to the lakefront where cooling is likely. https://t.co/LsxZNaCT4N pic.twitter.com/dDr5XOp1WI

— Bill Snyder (@billyweather) May 25, 2018