This is an archived article and the information in the article may be outdated. Please look at the time stamp on the story to see when it was last updated.
CHICAGO — Thunderstorms developed late this Saturday afternoon after a hot and humid afternoon as a lake breeze front moved inland acting as a miniature cold front.
The storms will continue to affect scattered portions of the metro area this evening, bringing some gusty winds, hail and blinding downpours.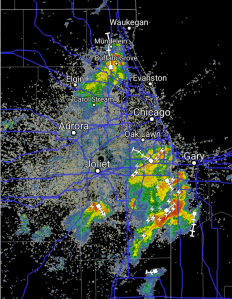 The slow-moving nature of the storms in combination with the heavy rain can result in local flooding.
One storm sat over Arlington Park Race Track for about a half-hour bringing blinding downpours just before the running of the Arlington Million.
LATEST WEATHER UPDATES AT CHICAGO WEATHER CENTER