This is an archived article and the information in the article may be outdated. Please look at the time stamp on the story to see when it was last updated.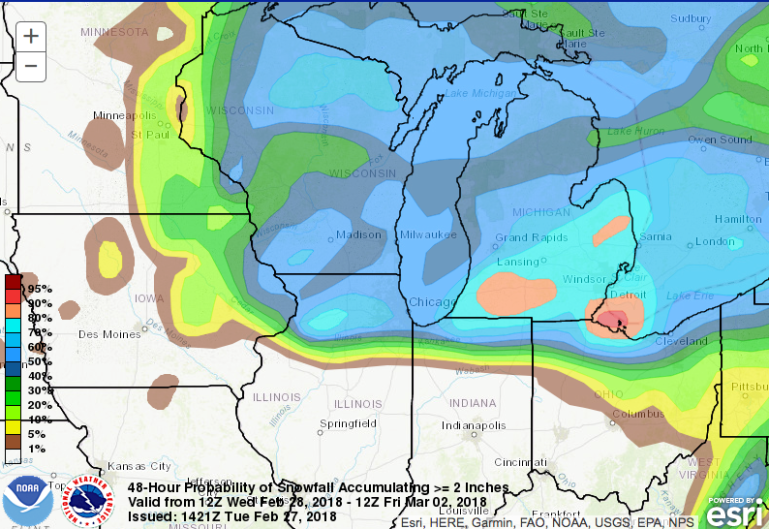 CHICAGO — We're headed into April level temperatures in the 60s Tuesday afternoon, and the mild weather will persist into Wednesday.
However, a cold front settling south across the area will crash temperatures Wednesday as it introduces a chilly northeast flow off Lake Michigan.
Several locations across the NWS Chicago forecast area have hit the 60F mark as of 1pm. These temperatures are around 20F above average for late February and are more representative of what would be expected in mid-April. pic.twitter.com/dCVXny0UiA

— NWS Chicago (@NWSChicago) February 27, 2018
Beyond this, a fascinating weather situation is coming together Thursday, with a fast-moving winter storm predicted to be in an intensifying mode as it sweeps the Midwest. Models determining whether or not this means snow is headed our way have been all over the map in the past 12 hours, although it's not unheard of this far in advance of a winter event.
Last evening's machine predictions, for instance, all but lost any snow with the system. Some continued that approach this morning, but others reintroduced snow prospects for Thursday. The most ambitious snow-producers among them suggest a cold morning rain Wednesday could transition to a period of intense snow running four to six hours Thursday afternoon, which could lay down a quick two to six inches, with powerful winds in attendance.
While much is yet unsettled about this system and should be closely monitored, it's probably safe to conclude there's potential for scattered showers in advance of the main storm system Wednesday, with 30 to 40 percent of the area being impacted. It's also a pretty good bet rains with the main system will pick up Wednesday morning.
Then late morning or early afternoon in the city Thursday, a transition to wet snow will take place. At that point, snow could come down at an impressive rate, though the period of most significant snowfall may be limited to Thursday afternoon and will be out of here Thursday night.