This is an archived article and the information in the article may be outdated. Please look at the time stamp on the story to see when it was last updated.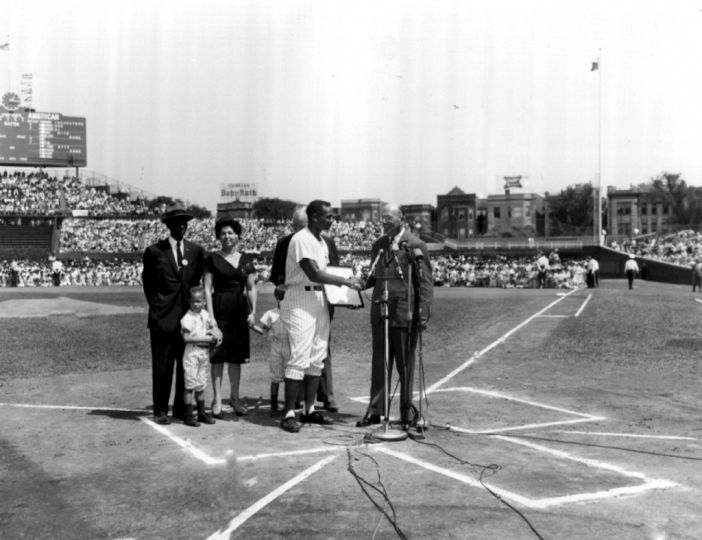 50 years ago today, the Cubs honored "Mr. Cub") on "Ernie Banks Day" at Wrigley Field with a 20-minute pregame ceremony. It was the first time in the team's history they had thrown a day for one of their players and the theme was "Thanks Banks".
2,000 Little League and Pony League players ringed the infield as Ernie was honored before a crowd of 23,003. Jack Brickhouse was the master of ceremonies. Among the gifts:
– A scroll from Mayor Daley proclaiming August 15 as "Ernie Banks Day" in Chicago.
– A diamond ring from the Cubs organization presented by Charlie Grimm.
-A new station wagon.
– A sterling silver tray engraved "Ernie Banks Day, Mr. Cubs, August 15, 1964" presented by Cubs pitcher and player representative Larry Jackson.
-A trans-oceanic transistor radio from WGN, presented by Jack Quinlan.
– A plaque from Warren Giles, president of the National League.
-$50 savings bonds for his three children from the Chicago chapter of the Baseball Writers Association of America.
-And.\,  of course, a huge cake.
With twin sons Jerome and Joel grabbing at his side, Ernie addressed the crowd:
First, I want to thank God for making me an American and giving me the ability to be a major league baseball player. Next I want to thank my wife and kids and my parents for their devotion. And, of course, all the wonderful Chicago Cub fans for your warmth and acceptance in making this day possible. I will be forever grateful to the fine Cub organization, the committee, my teammates – here and beyond – and especially to Mr. (Phil) Wrigley, who has been much more than an employer. I will never forget this day. Thank you from the bottom of my heart.
Everything I have I owe to baseball. Baseball has been a way of life for me. The game has give me an education, has helped me make friends and associations, and established me in athletics as a big leaguer. And it has helped me reach financial security. This is a day I will never forget.
The Cubs lost to the Pirates 5-4. Ernie went 0-3 with a walk and run scored.
-Bob Vorwald