This is an archived article and the information in the article may be outdated. Please look at the time stamp on the story to see when it was last updated.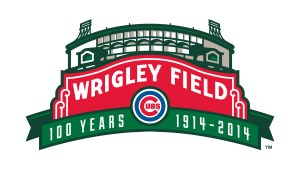 After Opening Day in 1969, there was no doubt that it was going to be the Cubs' year. They had posted back-to-back winning seasons in 1967 and 1968 and were poised for a breakthrough as they took the field against Philadelphia on April 8 to open the season. What followed that day set the stage for a Wrigley Field summer of love like no other.
The love-in started for Ernie Banks when he received a standing ovation during the pregame introductions. Banks then celebrated his 17th Cubs Opening Day with a home run in the first followed by his second standing O of the day. The crowd rose again for Banks as he came to the plate in the fourth, then stayed on its feet after Banks launched another homer. By the day's end, the Tribune's George Langford counted nine standing ovations for Mr. Cub to go with his two home runs.
On the strength of Banks' heroics, the Cubs held a 5-2 lead going into the 9th inning. However, rookie Don Money's second home run of the game (and second of his career) wiped that out and chased starting pitcher Ferguson Jenkins as the first game of the year went into extra innings.
The Phillies broke through in the top of the 11th as Money, who had five RBIs on the day, drove in a run against Cub reliever Phil Regan and it appeared that the Cubs might have let one slip away. In the bottom half of the inning, Randy Hundley picked up a one-out single off another Phillies rookie, reliever Barry Lersch, to keep hope alive at Wrigley.
Enter Willie Smith. The Cubs backup outfielder and right-handed pinch- hitter went to the plate so jacked up that he got a stitch in his side after a vicious warm-up swing. Smith winced a bit, then laced a 1-0 pitch from Lersch into the right field bleachers to set off the first of many post-game celebrations at Wrigley Field that season. As Willie was joyously rounding the bases, a familiar voice was hitting a new octave overhead where Jack Brickhouse was nearly falling out of the booth. His call was one of his finest, sheer exultation on the Cubs' dramatic win.
"Well-hit, deep to right. Back…..back….back, It's all over!!!! Willie Smith just homered!! The Cubs win the game!!"
Hundley was relieved the ball carried out. "I can still see that ball going over my head at first base," he said. "It was kind of like a knuckleball. It didn't have a lot of spin on it and I didn't know if it was going to carry enough to get out, so immediately I'm hauling fanny to try and score from first base if the ball was off the wall. Luckily he got the ball out of the ballpark and what a thrill!"
A mob of twenty-four teammates and several fans met Smith at the plate. He managed to fight his way in to step on the plate and for his efforts, one of the Cubs accidentally spiked Willie's right big toe.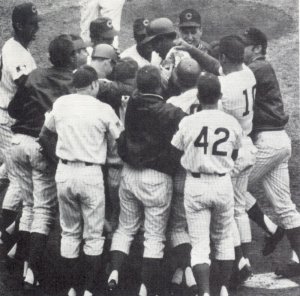 Billy Williams would win the game on Opening Day 1971 with a 10th inning home run of his own, but he still maintains 1969 was his favorite opener. "I don't think Leo or Mr. Wrigley or anybody on the ball club realized what was going to happen that particular year. It just started when Willie Smith hit that home run on Opening Day and I think things just took off from there. I can still see him now, he was running around the bases proud as a peacock. All of a sudden we won that game and from then on, it was a beautiful summer."
For Glenn Beckert, Smith's blast couldn't have come at a better time. "I was in the dugout trying to keep warm and I wanted to give Willie a big kiss for doing it, because I was freezing. That was a big ballgame. To get a win on Opening Day you could just see the momentum starting."
The home run jump started the Cubs in a big way. "Being down and hitting that home run in the 10th inning was unbelievable," said Ron Santo. "It just inspired us and then we went on to win, I think we were 11-1 to start the season. I think we all knew this was our year."
-Bob Vorwald
Excerpted from "Cubs Forever" – Triumph Books.