This is an archived article and the information in the article may be outdated. Please look at the time stamp on the story to see when it was last updated.
BALTIMORE — The Chicago White Sox and Baltimore Orioles are playing in one of the strangest televised sporting events ever, as Baltimore's Camden Yards is hosting the game without fans.
Rioters and police have been clashing in Baltimore for the past few days,  and on Tuesday the Orioles announced that Wednesday's game would be "closed to the public" due to ongoing public safety issues. Demonstrations began after the death of 25-year-old Freddie Gray, who died from a severe spinal injury days after police arrested him.
Photos circulating online and from the broadcast show an eerie sight: Two teams playing in an almost completely empty stadium.
The view of today's game. #Birdland pic.twitter.com/Giqp66rhyN

— Baltimore Orioles (@Orioles) April 29, 2015
Oriole Park at Camden Yards pic.twitter.com/uVDpwRYxUD

— 3030 (@jose3030) April 29, 2015
The lack of public access didn't stop a small group of fans from congregating outside the park, just beyond the right field stands, and during the game only they could be heard cheering after every Orioles hit — and thus far Baltimore has many of those, including Chris Davis, whose 3-run home run prompted a reaction more often heard during golf tournaments.
Screenshot; fans outside the gate looking in. Camden Yards. First ever spectator-less MLB game about to start. pic.twitter.com/LFdRYyIdGg

— MLBcathedrals (@MLBcathedrals) April 29, 2015
In the peculiar scene, foul balls landed with no one around to retrieve them. Davis's home run landed without the usual flock of fans chasing after it.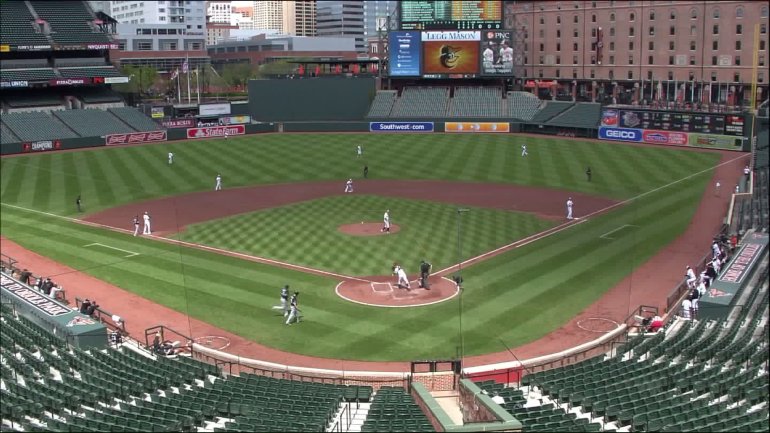 According to the Associated Press only one gate opened: the one for media. With journalists buzzing over the deserted game, Camden Yards may as well have been setting up for a playoff game, with all 92 seats in the press box full.
TV camera crews lined the field and are stationed outside the ballpark.
But that was it. No fans, few people within sight.
According to multiple reports Wednesday marked the first-ever spectator-less MLB game.
One AP reporter did spot a couple of scouts, however, in the stands.
Looks like a couple of scouts found their way to seats at Camden Yards. pic.twitter.com/c1PT2tDlBA

— Dan Gelston (@APgelston) April 29, 2015
Some fans also appeared to watch from a hotel balcony that overlooked the stadium.
Orioles fans watch from upper, upper deck seats – a balcony at the Hilton across the street from Camden Yards. pic.twitter.com/LeV7iGkfQu

— Dan Gelston (@APgelston) April 29, 2015
After this game the Orioles will then host the Tampa Bay Rays … in Florida. The series against the Rays has been relocated to Tropicana Field, home of the Rays, but the O's will still serve as the home team, batting in the bottom of each inning.
The Associated Press contributed to this report.