This is an archived article and the information in the article may be outdated. Please look at the time stamp on the story to see when it was last updated.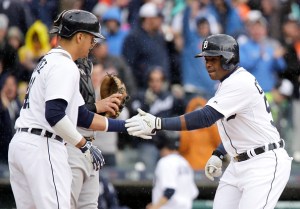 DETROIT — Yoenis Cespedes hit a grand slam and a two-run homer and Shane Greene pitched seven impressive innings in another fine start to begin the season, helping the Detroit Tigers rout the Chicago White Sox 9-1 on Sunday.
It was the first major league grand slam for Cespedes, and both his home runs came off Jose Quintana. Cespedes is now 6 for 8 with four home runs against Quintana (1-1) for his career.
Greene (3-0) allowed his first earned run of the season Sunday when an RBI triple by Jose Abreu skipped past J.D. Martinez in right field. Greene gave up five hits and four walks, but the White Sox hit into four double plays