This is an archived article and the information in the article may be outdated. Please look at the time stamp on the story to see when it was last updated.
CHICAGO  — Avisail Garcia hit a three-run homer in Chicago's five-run first inning and had a bases-loaded walk in the 10th to give the White Sox a 6-5 victory over the Tampa Bay Rays on Wednesday.
Garcia drew the winning walk off closer Brad Boxberger (5-6).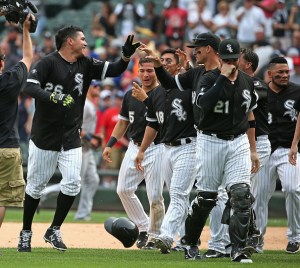 In the 10th, Adam Eaton singled and stole second base and advanced to third when catcher Curt Casali's throw struck shortstop Asdrubal Cabrera in the ear, knocking him to the ground. Cabrera left the game later in the inning. Boxberger then intentionally walked Jose Abreu and Melky Cabrera to load the bases with one out before walking Garcia.
Chicago closer David Robertson (5-3) had four strikeouts in two hitless innings.
After falling behind 5-0 in the first, the Rays tied it in the eighth inning, scoring their fifth two-out run of the game. Brandon Guyer had an RBI double off reliever Zach Duke.