This is an archived article and the information in the article may be outdated. Please look at the time stamp on the story to see when it was last updated.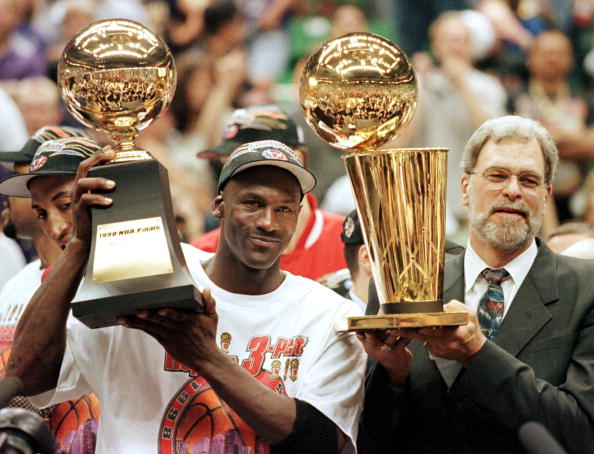 CHICAGO — Sunday marks the 27th anniversary of the Chicago Bulls' hiring of Phil Jackson as head coach, a move that helped launch a dynasty.
Jackson, then 43 and a Bulls assistant, was hired on July 10, 1989, to replace head coach Doug Collins. He along with budding superstar Michael Jordan would go on to win six championships in Chicago.
The lofty Montana native had played with the New York Knicks and Nets, and was a coach in the Continental Basketball Association and in Puerto Rico before becoming an assistant with the Bulls in 1987. In 1989 he was signed by owner Jerry Reinsdorf to a four-year contract worth about $1.2 million.
Jackson became notorious for his "triangle offense" scheme and his preparation tactics, such as pre-game meditation and his knack for basing team chemistry around Native American culture. A calm leader, Jackson skillfully managed the egos of three superstars while in Chicago: Jordan, Scottie Pippen and Dennis Rodman.
The Bulls during the Jackson and Jordan era captured six titles in the 1990s by way of two "three-peats." Their last would be in 1998. Jackson then left the team due to a falling out with general manager Jerry Krause.
He went on to coach the Los Angeles Lakers, winning five titles there, including another three-peat. He currently serves as president of the New York Knicks. The Bulls have not made an NBA Finals since Jackson and Jordan's departure.