This is an archived article and the information in the article may be outdated. Please look at the time stamp on the story to see when it was last updated.
Yes, it is back…by popular demand!  We thoroughly enjoyed doing Stats Sunday last year and it is back on our Sunday WGN telecasts this season as well.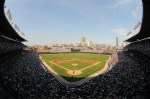 Honestly, we weren't sure if we were going to do it again, but the feedback was very positive and it feels like a wheelhouse feature for us, especially with JD's interest in a lot of these numbers as well.
 Don't worry, we won't beat you over the head with a million numbers.  That is not the point of Stats Sunday.  We just want to talk baseball in an intelligent, objective way and there are so many interesting statistics out there to help us rank players and teams with the things we can quantify.
 We also will have some guest writers on the blog to give us their take on certain stats and how sabermetrics have helped them enjoy the game on a deeper level.
 This week we start with the quick and dirty OPS ("O"n base "P"lus "S"lugging).  It is not a perfect stat, but it is an easy way to assess the total contributions of an offensive player in terms of his on base skills and power all wrapped into one.
The downside is that both on base percentage and slugging percentage are weighted equally, which some people aren't sure is ideal (they believe OBP is more important), but again, it's a really quick way to see how good an offensive player is.
As always, you need to keep in mind that league average puts things in context.  Major League average OPS this year is in the .720 range, but in 2000, it was over .780.  So, offensive environment matters.  In 2000, a .750 OPS was below average, whereas in 2013, it's above average.
Enjoy the broadcast!
len