This is an archived article and the information in the article may be outdated. Please look at the time stamp on the story to see when it was last updated.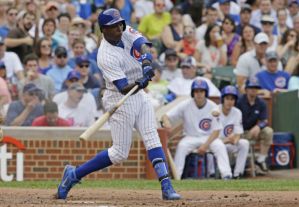 Don't look now, but the Cubs are suddenly red hot, having won four straight and are now 22-18 since their 18-30 start.  No, it doesn't mean the short-term picture has changed — I still expect Matt Garza to be traded and he may not be the only one.  But it has been fun to see this team jell lately.  The bullpen looks completely different now (and that's somewhat by design with only two of the Opening Day roster relievers still in the current pen), the rotation has maintained its excellence even without Scott Feldman and now the offense is scoring runs in bunches.
Of all the intriguing angles right now, I'm most curious about the Alfonso Soriano trade market.  Has his recent hot stretch opened some eyes around baseball?  Would a team on his list be interested in giving the Cubs something in return for a 37-year-old outfielder playing like he's Mike Trout right now?  My guess is there is a market for him, as limited as his list of teams he's willing to go to is.  He could be a terrific platoon left fielder or DH down the stretch.
If he does get dealt, he will be missed inside that clubhouse.  He is absolutely a leader with excellent work habits and an even-keeled approach his teammates would all be best-served heeding.
Len