This is an archived article and the information in the article may be outdated. Please look at the time stamp on the story to see when it was last updated.
CHICAGO – These are the days he'll remember-even while drenched in sweat and breathing heavy.
"Make sure you work those feet," is what trainer Derrick Baker says to his most recent client, who is taking a minute to catch his breath. "Get there, get there, get there and accelerate out of it."
Then Baker asks "Allright?"
The man in front of him says "Allright."
It's a pretty common routine that happens a few times a week inside the expansive McCook Athletic and Exposition Hall. The turfed field that covers most of the floor at the complex soak up the sweat from many hoping to craft themselves into a success in their sport of choice.
Arthur Ray Jr is the latest of these attempting to do so, with Baker leading the way with a series of football workouts meant to test the body.
"Yes…good," says the trainer as he watches Ray move from side-to-side in a crouched stance-typical of an offensive lineman.
Ray shuffles his feet across the turf. Turn one way, go back. Turn another way, go back again. It goes on like this for about 20 seconds before Ray emerges from his stance and charges forward towards a green curtain dividing this field from the others at the complex.

"As of right now I'm enjoying it," said Ray of the workouts. "It's hard to believe after all this time that I still have this opportunity."
That's a chance to play in the NFL. There are 257 who will hear their names called at the Auditorium at Roosevelt University this weekend guaranteeing at least a shot to try out in professional football's biggest league. Even if a person doesn't get selected in the NFL Draft there is still the opportunity to be signed as a free agent.
Either scenario works for Ray-a native of the Chicago area and former standout for Mount Carmel who recently completed his college football career at Division II Fort Lewis in Durango, CO. During this particular workout he worked on snapping since he's selling himself as a center to a number of interested teams.
"I just want a shot, man. Honestly," said Ray of the NFL. "After everything I've been through, I just want a shot."
It's what he's been through that makes the opportunity to do so a bit more rewarding.
"I carried my pain when I played football," said Ray, becoming emotional as he remembered his nearly decade-long journey from high school to this workout.  "When you play football, you see pain, you see everything I've been through, I bring it with me. I utilize it. I'm grateful."
When he refers to "It", Ray is really referring to "They."
—
It wasn't supposed to be painful-other than the normal wear-and-tear of football back in 2006. Ray's story of an NFL journey figured to play out like many others.
A standout for Mount Carmel, Ray was named a Class 8A All-State selection his senior season and was ranked among the top ten seniors in the state by Rivals.com. He was also featured in a few national Top 100 list and his play earned him a scholarship to Michigan State and also an invite to the All-American Game in Fort Lauderdale.
But something lingered from his high school career to his All-Star game appearance and then into his workouts before going to Michigan State. Before a game against Lincoln Way East during his senior year he noticed a bump on his leg but carried on for the next few months until it got to be painful.
Then came a doctor's visit and an explanation.
"Me and my parents went to the doctor and they just told me flat out," said Ray, whose bump on the leg turned out to be cancer. "They weren't nice about it. They just walked in and basically said that your football career is probably over.
"You have to start chemotherapy immediately."
His father Arthur Sr. and mother Adrian were right by his side. All those hopes brimming just a few months ago were replaced by a little something different.
"Man it comes back cancerous. I'm like 'WHAT!'," said Arthur Sr. when he got the news. "Right away I'm being naive. At the time me and my wife, I'm like 'You have cancer in your family? I don't have cancer in my family. how did we get cancer? How did he get cancer at this time?' I'm like 'Oh man, what is going to happen?
"He has a scholarship to Michigan State. I mean what is going to happen. Is he going to die? What are we going to do?'"
Arthur had a similar reaction. No East Lansing for him. Instead the destination was the cancer center at UIC.
"I wasn't thinking football. Everything they said didn't really sit. It was almost like I was dreaming," said Ray of the diagnosis. "I really couldn't believe this was happening, especially to me. I thought I was living healthy and doing the right things.
"It was just definitely a shock."
—
When Adrian would walk into the center, it was hard to miss her son.
"He was the biggest kid," said Ray of her son. "You couldn't not see him."
At 6-foot-3 it was tough to miss him. Because of his age Ray was put into the pediatric ward at the UIC Cancer Center and was surrounded by other cancer patients who in some cases were ten or more years younger than himself.
"He's sitting in little chairs, little kiddie chairs," remembered Arthur Sr.
These were not the best of days or memories for Ray. These were days of painful chemotherapy at a time when his football career should have been starting.
"Chemo was rough," said Ray. "It really tore me up. It's pretty much putting poison in your body. It destroys all your cells."
Oddly enough it didn't do the same to his spirit.
Why?
It was those around him, young kids fighting the same or worse forms of cancer, that were spurring him on. Two of them stuck out to Ray as he reflected on his time in the hospital-Chris and Steven.
"They really took me in," said Ray of the pair. "Chris had a brain tumor on his skull. Steven had lymphoma and they had been in the hospital two years and they're 15 and 12. I'm sitting here 17 and they're asking me about life, about football, about girls just different things."
These were through simple gestures of encouragement. Arthur Sr. remembers hearing of the fellow patients trying to cheer Ray up with games of Madden Football and Chess during his chemotherapy treatments.
Thought of by others his age as simple kids, Ray referred to those he met in the hospital as "Family."
"Just keeping me sane. I'd just be in the hospital and it just got real bad and I really couldn't handle it alone and they just took me in," said Ray of Chris and Steven. "They allowed me to feel like I didn't let anybody down. You know, I thought I let everybody down. I thought I let everybody down.
"I thought I let everybody down when I got sick. I thought it was over. I thought that I really didn't have any control over my life. It was a terrible feeling."
According to Arthur's mother, his new-found friends made sure those feelings turned around from the time he started at UIC until he left.
"They were like 'Hey, Arthur' we're going to play video games, we're coming to your room later," said Adrian Ray. "Even though he was sad on the inside, those kids were bringing it out of him to show a good side."
It was a process that overtime gave the 17-year old a lasting lesson.
"There's a lot of other kids there and they're a lot younger than me and they're going through a lot worse  illnesses than I am. I think it sort of kept things in perspective for me," said Ray-who would need that even after he was cancer-free.
—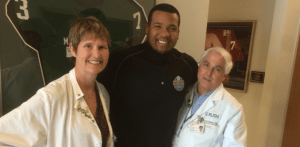 When the original diagnosis came to Ray a football career appeared to be over. That didn't last long.
"'Man I was ready to tell you that Arthur would never play football no more but because it's not on his knee, it's down here, we've got a chance,' said Arthur Sr., who was told along with his wife and son the cancer would likely not be fatal.   "First thing was 'Oh man, this is great.'"
Even after getting through Chemotherapy the journey wasn't over. He would enroll at Michigan State in 2008 only to be forced home with a leg infection. That required surgery and getting that fixed would keep him out of East Lansing till the fall of 2009.
Still more complications arose and Ray said he spent around two years on crutches due to other issues that came up during his time at Michigan State. But with support from family, friends and doctors at Rush Medical Center, Ray never lost hope that his football career might finally get back up and running again.
In the spring of 2011, he finally stepped on the field for the Spartans.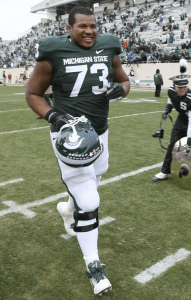 "After I got back on the field, that was just step one for me. Everybody was hugging me, praising me.  A lot of people set different expectations for you but I never really pay attention to other people's expectations," said Ray. "I had expectations for myself. When I first got back to Michigan State, the first year for me was just a learning year. I had been out of ball for four years so I got a chance to see Big Ten football up close.
"So I took it as a learning year and I knew I could constantly get better with more repetition and the more I got used to my left mentally."
Eventually he would take the field for Michigan State that fall. He got to start at left guard in his first game  against Youngstown State after senior offensive Joel Foreman offered up the spot. Ray played in two other games that season and was named the 2011 Discover Orange Bowl/Football Writers Association of America Courage Award.
But with playing time likely short in East Lansing Ray looked to continue his football career elsewhere. After a call to the NCAA he medically disqualified himself from Michigan State and after graduating was granted two years of eligibility.
"Any place that would have given me an opportunity, I just wanted to prove to myself and prove to everybody around me that I could still play," said Ray. "Fort Lewis was able to grant me with that opportunity so I just took it and ran with it.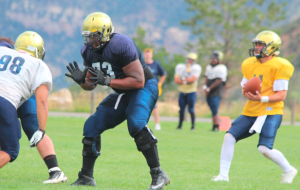 Those would be used at Division-II Fort Lewis, where he was immediately voted a captain and became a mainstay on their offensive line for two years. Oddly enough, he played for former Michigan State coach John L. Smith.
While getting the chance to play was a major highlight, there was certain visitor during his senior year that rekindled a pre-cancer dream. A Carolina Panthers scout came to Durango for a visit.
"Once they told me that they were interested and they just wanted to see how I played the season, told me everything I needed to do in order to be considered as an NFL prospect," said Ray. "I just took it to heart and got to working that much harder.
"Then throughout the season the coach would call me and would tell me the Atlanta Falcons called and different things and once those things started happening I really started to say 'Hey, my dreams can still come true' it just motivated me that much more. Everything that I had been though to have that opportunity was just a blessing."
—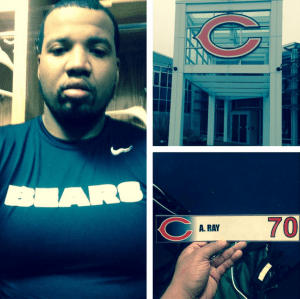 "That a boy. Good," said Baker as Ray continues a drill at the McCook Athletic and Exposition Hall.
Arthur this time is working on his lateral movement as he moves is legs and down quickly through a rope ladder. The sweat gets a little more profuse and the breathing heavy as the activities get more strenuous.
This has not been the only time that Arthur has worked out since he finished up at Fort Lewis. Ray got some work done with famous trainer Chip Smith in Atlanta and had a workout for the Bears at their headquarters in Lake Forest.
"Going through my workouts every drill I do, everytime I'm running, everytime I'm bouncing on my leg. I can't help remembering the days when I was on bedrest and days which I couldn't do anything and I was confined by crutches and everything," said Ray. "I couldn't really move around and be who I wanted to be but as I go through these workouts, that's my motivation.
"That's what keeps me grounded, never lets me think that I'm above anything."
So does the memory of the first two who helped him first keep his spirits up during the early days of treatment. Chris and Steven both died of cancer.
"I got through it and they helped me. I'll never forget that. I'll never forget that a day in my life," said Ray. "I think about them every day. I carried them with me."
With every drop of sweat dripped out during another workout towards a dream.