This is an archived article and the information in the article may be outdated. Please look at the time stamp on the story to see when it was last updated.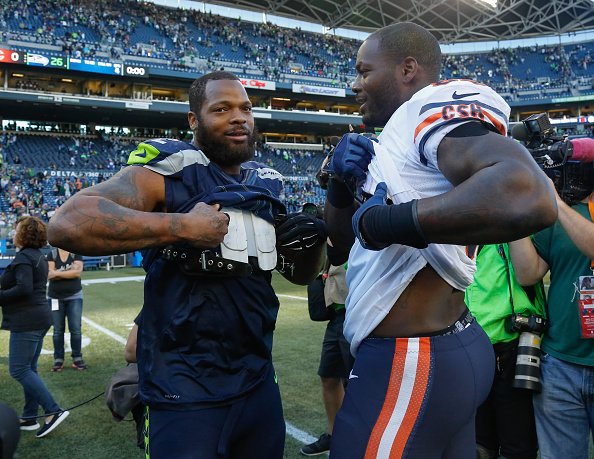 CHICAGO — The NFL's quirky Bennett brothers recently voiced their displeasure with Jay Cutler.
Former Bears tight end Martellus Bennett, as well as his brother, Seattle Seahawks defensive end Michael Bennett, both ripped the embattled quarterback in an interview with ESPN.
The outspoken duo sat down with reporter Mina Kimes and touched on a number of topics, including players on rival teams. But when Kimes brought up Martellus Bennett's former teammate, his brother Michael had a blunt analysis.
"Worst quarterback in the NFL," Michael said.
While Martellus, who played with Cutler from 2013-15, didn't go that far, he did offer his own criticism.
"I'd be open and he'd throw into double coverage," Martellus said.
Cutler, 33, had arguably his best season with the Bears in 2015, throwing for 21 touchdowns and 3,659 yards to 11 interceptions. Three of those interceptions came in the final week of the season.
In the peculiar profile, which included several crass jokes and sarcastic replies, the Bennetts offered commentary on other players in the NFL. Martellus described his new quarterback, Tom Brady, as "the silver fox you never get to see but you hear about." In March the Bears traded Martellus Bennett to the New England Patriots in exchange for a fourth-round draft pick.
Meanwhile another former Bear, Brandon Marshall, told ESPN's "First Take" Cutler could win the MVP this season if receivers Alshon Jeffrey and Kevin White stay healthy and produce on the field.
The comment prompted host Stephen A. Smith to lose his mind and ask if he could leave the set. Smith also accused Cutler of quitting in the 2011 NFC Championship Game.
The Bears open their season Sept. 11 at the Houston Texans.