This is an archived article and the information in the article may be outdated. Please look at the time stamp on the story to see when it was last updated.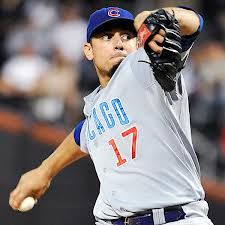 As has been the case pretty much all season, last night was a good news, bad news night for the Cubs.  The good news needs more attention, because it was the most important development last night in terms of the big picture.
Matt Garza returned to action for the first time in 10 months and was terrific.  I honestly didn't know what to expect from Matt after such a long layoff, but his stuff was electric, his command was very good and the results were great:  5 innings, 1 hit, zero runs.  The pitch count got him, but that was only because it was his first start.
Garza's performance will be arguably the most important topic of conversation the next 6-8 weeks as the Cubs try to sort out what to do with a guy in the prime of his career who is due to become a free agent (and turn 30 in the off-season).  The conventional wisdom is that the Cubs will look to deal him for prospects, but the mitigating factor here is the Cubs' lack of high-end pitching in the upper levels of the minors.  So, unless they can bring a huge return on a deal for him, you may see the Cubs at least kick the tires with Garza on a multi-year deal.
Would he be willing to take 3 years and not go for 4 or 5 on the open market?  That's a question only he can answer.
The bad news was obvious.  The bullpen's rollercoaster season hit a big dip once again as Shawn Camp gave up the game-winning grand slam on a hanging changeup.  The Cubs could (should?) be 4 games under, but haven't been able to hold leads the last 2 games because of 2 bad change-ups.  To say it's frustrating is a big understatement.  This team is so close, yet keeps coming up just a little bit short.
len