This is an archived article and the information in the article may be outdated. Please look at the time stamp on the story to see when it was last updated.
Sports Xchange
LOS ANGELES — Jason Collins got an inkling something unusual was going on early Sunday. Missed phone calls and text messages, including one from Brooklyn Nets coach Jason Kidd, were his first clue.
"Sometimes in life something happens, and it's an opportunity," Collins said. "That's why I work so hard and train. I'm very thankful for this opportunity."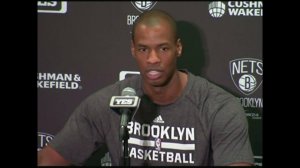 Collins became the first openly gay athlete to join in an NBA club, signing a 10-day contract with the Nets hours before they faced the Los Angeles Lakers at Staples Center on Sunday night. He entered the game with 10:28 left in the second quarter.
He finished with no points, two rebounds, one steal and five fouls in 11 minutes.
Once he signed with Brooklyn, the 35-year-old journeyman center immediately became the center of attention again, addressing some of the scrutiny that followed him since he came out in a Sports Illustrated article last year. He addressed much of it and his arrival with the Nets during a packed news conference attended by about 70 media members before the game.
"It's a little bit (crazy), but that's life," Collins said of the media attention. "I've played for 12 years in the league, so I know how to play basketball. It's just obviously getting my timing back for an NBA game. So I'm ready. Let's do it.
"Right now, I'm focused on trying to learn the plays, trying to learn the coverages of the game plan and assignments. I haven't had time to think of history. I have to focus on my job tonight."
Collins, who lives in the Los Angeles area, said the only pressure he felt was to perform at a high standard for the Nets. He doesn't feel any additional burdens.
"Physically, I'm not worried about my conditioning," he said. "Again, it goes back to learning the plays and coverages and learning my assignments. That's the adjustment for me. I need to be a solid basketball player. Again, it's about focusing on the task at hand and not thinking about history along those lines. It's about making it difficult for the Lakers tonight.
"For me, the pressure is playing in an NBA game tonight. The last time I played in an NBA game was last April. I think that's enough pressure right there."
Despite not being picked up by an NBA club until now, Collins said he wasn't worried he might not get a chance to resume his career after his announcement last April.
"I always try to stay positive and try to control what I can control," he said. "That's my training. I always try to focus on being positive and staying ready. It's the best part of being professional.
"I've played with J. Kidd, Joe Johnson, Kevin Garnett and Paul Pierce. Very familiar with the guys on this team. I thank J. Kidd and the entire Nets organization for giving me this opportunity. I also want to take time to thank the fans and the family and friends who reached out to me today. Cell phone went crazy."
Collins added that the Nets players were supportive.
"My teammates have been great," he said. "Everybody this morning. Like I said, I've played with a lot of these guys or my brother (Jarron has). Throughout the league, my brother played 10 years in the NBA, so we have 22 years experience between the two of us. So it's a lot of teammates, a lot of coaches (and) a lot of people we've crossed paths with."
Collins believes his experience as a veteran NBA player will help him endure the scrutiny and attention he is receiving.
"Hopefully, my mind and body will be in the right place. I know I can execute a game plan," he said.
Lakers coach Mike D'Antoni said he was pleased to see Collins added to an NBA roster.
"I think it's very positive," D'Antoni said. "I think the (NBA) has always been ahead on a lot of stuff, and it shows great leadership and we've got some good people in this league."
NBA commissioner Adam Silver also weighed in.
"Jason told us that his goal was to earn another contract with an NBA team," Silver said in a statement. "Today, I want to commend him on achieving his goal. I know everyone in the NBA family is excited for him and proud that our league fosters an inclusive and respectful environment."
Collins said he spoke with soccer forward Robbie Rogers, who came out last year and now plays for the L.A. Galaxy.
"I speak to Robbie frequently," Collins said. "I spoke with him earlier today. He was just offering advice. He has experience going down this path."