This is an archived article and the information in the article may be outdated. Please look at the time stamp on the story to see when it was last updated.
CHICAGO – The fraternity of Heisman Trophy winners and Bears running backs has lost a member on Tuesday.
Rashaan Salaam, who won college football's top honor at Colorado in 1994 and played for the Bears for three seasons, died at the age of 42. The University of Colorado football program announced the death on Twitter.
"We're minus one true Buffalo today." Heisman Trophy winner Rashaan Salaam passes away at age 42. https://t.co/IsjgXPpPSo

— Colorado Buffaloes (@CUBuffs) December 6, 2016
Salaam was found dead in a park in Boulder, Colorado. No cause of death has been released.
After winning the Heisman Trophy with Buffaloes in 1994 after rushing for 2,055 yards and 24 touchdowns, Salaam was drafted in the first round by the Bears with the 21st overall pick.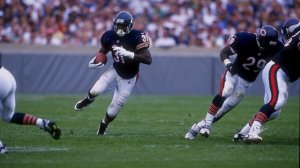 His rookie season was his best in the NFL by far. Though plagued by nine fumbles, Salaam rushed for 1,074 yards and 10 touchdowns as the 9-7 Bears narrowly missed the playoffs. Salaam would play in 12 games the next year with his carries and yardage dropping as he picked up just 496 yards on 143 carries – 153 less than the year before.
Salaam played in just three games in 1997 with 112 yards on 31 carries before the Bears let him go after the season. He would only play in two more NFL games for his career, both coming with the Browns in 1999.