This is an archived article and the information in the article may be outdated. Please look at the time stamp on the story to see when it was last updated.
The most important home run in Cubs history was really two home runs that were hit on this day in 1984.  The team, the fans, and the neighborhood were never the same after Ryne Sandberg stunned Bruce Sutter and the Cardinals with two game-tying home runs as the Cubs entertained a national audience on NBC with a 12-11 win. 
Most important? Really? Yes, really. Gabby Hartnett's "homer in the gloaming" helped deliver the 1938 pennant, but the Cubs had won three National League titles since 1929. Sandberg's homer launched the team on a run that would end a 39-year post-season drought as well as help both the team and Wrigleyville explode in popularity.
Ryne Sandberg: 1984 changed everything. I really saw a big change that year. I was there and Harry Caray was a big part of that. We had a bunch of guys that fans could relate to and Harry had a great time with us, giving out nicknames. The way the season went, the fans came out in droves. Since that year, it's been pretty consistent year in and year out, because I was here in '82 and '83 and it was nothing like was after '84.
The genesis of the Ryno game came in spring training when new manager Jim Frey told Sandberg to start thinking "pull". 
Jim Frey: In sports, everybody talks about coaches in changing this and changing that. I've always thought that the mind is the biggest thing from making people from being good players to great players. It's not a physical thing to me. So I tried to work on him from the standpoint that I thought he had a chance to be the best player in the National League. I wanted him to start thinking about that and accepting the responsibility that goes with it. I said those words to a lot of players over the years, but Sandberg got it!  Thank God he got it, because he got it just in time to help us win. I'm very proud of him.
Ryne Sandberg: Jim Frey came over from the American League where the mentality then was to hit the ball out of the ballpark. It was a more offensive league with the DH. Jim was just over from Kansas City and he watched me play for about ten games in spring training. He told me I had some size and questioned me on why I tried to stay on top of the baseball and hit the ball on the ground all the time, then try and beat the ball out? I told him that was what I'd been taught to do to that point.He said, "I'd like to see you hit the ball out of the ballpark every now and again," and I said I sure would. He worked with me for three or four days in a row in the morning on how to get the head of the bat on the ball on the inside pitch and use more of a power-pull swing.  He told me, "Now that you have that move down, what I want you to do in these next spring training games is if you hear a whistle from the dugout, that means swing like that on this pitch." He was anticipating a fastball in fastball and he trained me for that situation. I started driving the ball and in 1984, we opened on the West Coast for the only time in my career, which was nice because of the warm weather as we came out of Arizona. I hit a home run on Opening Day off a pretty good pitcher in Greg Minton of the Giants. We won the game so there was that instant success there that Frey was talking about.
That early success convinced GM Dallas Green that his team could win now so he retooled his rebuilding plan and brought in starter Dennis Eckersley (for Bill Buckner), then stunned the baseball world by trading for Rick Sutcliffe (for Joe Carter and Mel Hall)on June 13, just before the then-June 15 deadline. The Cubs didn't catch fire after the Sutcliffe trade, losing 6 of their next 7, so the arrival of the St. Louis Cardinals for three at Wrigley marked a really big test for the Cubs. They whipped the Cards 9-3 on Friday thanks to home runs from Keith Moreland, Ron Cey, and Jody Davis. 
Jody Davis: I had a big weekend when St. Louis was in town and Ryno hit the homers off Bruce Sutter. It seemed that I always hit well against the Cardinals, whether it was because I was there before or just the tremendous rivalry between the teams. I don't know what it was, but you knew it was going to be a sellout no matter which ballpark you were in. There was always tremendous excitement.
The "Sandberg Game" wasn't scheduled as a Saturday national telecast, but due to a rainout on the other main network game, the Cubs were seen coast-to-coast.  
Ryne Sandberg: There were two "Games of the Week" and it was the backup game, so it was Bob Costas and Tony Kubek doing the game. Back then, that was a really big deal. We used to call those the "Games of the World", because it was the only game on TV and it was a Saturday afternoon and everybody would be watching, including all the players in the league. We were on TV there and it was against the Cardinals and it was a great atmosphere which we always had when we played St Louis. It was June 23 and my number was 23 so there was some magic there that day. It was one of those wild games, wind blowing out a little bit so it was going to be an offensive game from the get-go.   The crowd was a typical Cubs-Cardinals group so the atmosphere was there, plus it was a high-scoring game.
For a good part of the game, what the nation saw was the same old Cubs, who couldn't get things right and were down 7-1 in the second inning. But they pecked away, helped by three singles and four RBIs from Sandberg, and opened the ninth inning trailing the Cardinals 9-8. With Sutter on to close for the Cardinals, Sandberg led off the inning for the Cubs. After taking a ball and a strike, he turned on an inside pitch and launched a home run to the last row of the left field bleachers, sending the packed house into delirium and the game into extra innings.
Bob Costas – NBC Sports play-by-play: Into left field and deep! THIS IS A TIE BALLGAME!"
Harry Caray – WGN Radio play-by-play: The pitch…THERE IT GOES! Way back! It might be…it could be… IT IS!!! THE GAME IS TIED!!! THE GAME IS TIED!!!
Ryne Sandberg: I hit the first home run off Bruce Sutter in the ninth to tie the game. That was totally unexpected. Here's the best reliever and sinkerball pitcher in the game and I was able to get underneath one of his pitches and lift it out for a home run.
Bob Dernier: In that game, I remember being on base all day. I think Ryno and I were on base nine times between us. He hit those two homers and drove in all those runs and was just incredible.  Anything Ryne Sandberg did never surprised me though. He was just built to win.
In the bottom of the 10th, the Cubs were down 11-9 and Sutter was working in his third inning. After two quick outs, Bob Dernier coaxed a walk on a close 3-2 pitch, bringing Sandberg to the plate again. Cards catcher Darrell Porter dropped the ball, which may have influenced Hall of Fame umpire Doug Harvey into calling it ball four, one of nine walks issued by the Cardinal staff that windy day. 
Bob Dernier: In the 10th, he got the chance to hit the second one because I walked with two out. I fought off a few tough pitches and drew the walk, which wasn't my forte as a hitter. I usually tried to get ahead in the count, then get a pitch I could drive because they don't want a walk a leadoff guy like me.
Whitey Herzog – Cardinals manager: Dernier was hitting and Sutter threw a 3-2 pitch right down the pipe. Strike three. The game was over. The umpire called it a ball. The wind was blowing out to left field and Sandberg came up and hit a home run to tie the game again. I don't want to mention the umpire I've seen tape of it  and that 3-2 pitch was right down the middle and he called it ball four. I don't want to take anything away from Ryno, but we should have been in the clubhouse.
Bob Dernier: It was ball four.
Willie McGee, who hit for the cycle drove in six runs and scored three, had already been announced as the NBC player of the game as Sandberg stepped in for another crack at Sutter. Same count, same swing, same result, and a legend was born as Ryno's second Roy Hobbs imitation tied the game again.
Keith Moreland: The game was running long. NBC was carrying the game trying to get off the air. They'd already run the credits and everything else and Ryno hits another one in the seats to tie. Bruce Sutter gave up a second tying home run, nobody could believe it.
Ryne Sandberg: Willie McGee was announced as the player of the game because he had hit for the cycle, but moments later  hit that home run, they were showing the credits, then they had to stop that in a hurry! We went to extra innings and I ended up doing it again in the 11th, hitting another home run to tie the game again. At that point, they took the player of the game away from Willie McGee and gave it to me.
Bob Costas: Our game today was produced by Ken Edmondson, directed by Bucky Guntz. Mike Weisman is the executive producer of NBC Sports. The coordinating producer of NBC Baseball is Harry Coyle. 1-1 pitch….he hits it to deep left-center. Look out! DO YOU BELIEVE IT? IT'S GONE!!!!!
Harry Caray: There is a long drive. Way back…might be out of here!!! IT IS!! HE DID IT AGAIN!!!! HE DID IT AGAIN!!!!!
Ryne Sandberg: When he came in, he was lights-out, I mean the game was almost over. At best, he would give up a couple of ground balls that might hurt him. To swing underneath his sinking ball, his split-finger and hit the bottom of the ball and to have it go out twice, I was amazed at myself. That's how it was. In the zone or unconscious, I don't know what you want to call it but I was floating on clouds running around the bases twice, hitting the ball of Bruce Sutter like that.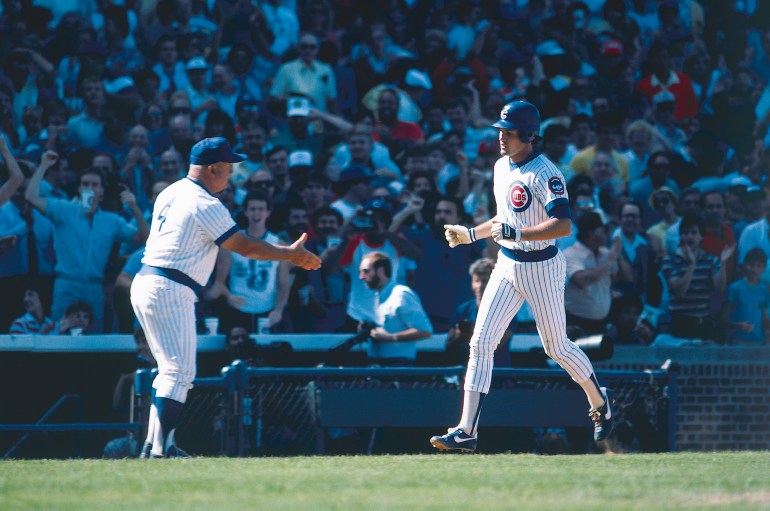 Lost in the legend is the fact that Sandberg's second home run didn't win the game, but tied it for a second time. In the 11th, the hero's mantle fell on unlikely 25th man Dave Owen, whose bases-loaded single sent the crowd into further hysterics while giving the Cubs a 12-11 win. With the end of the game came a new type of pressure which hit Sandberg like a Mack truck. 
Ryne Sandberg: After the game, about five minutes after the game I was asked to do the Cardinals post-game show with Jack Buck over in the Cardinals dugout. So I come out of the dugout and I start to go across the field and everybody is still there! Everybody is cheering still five minutes after the game is over. So I go over there and I do that interview and I'm on for maybe ten-twelve minutes with him and so now I come out of their dugout go across again and people are still cheering. Now I make it inside and I couldn't see my locker there were so many media around there. That was my first taste of that and it all happened that day. For the rest of the season, we had that attention. The games that we won, the big games, we had to deal with all that attention and keep that under check a little bit.
Faced with a horde of reporters at his locker, Sandberg was unable to put his accomplishment into words, while across the field Whitey Herzog told reporters "Sandberg is the greatest player I have ever seen".
Fred Mitchell – Chicago Tribune: He was overcome. Over the years, you see athletes who, quote unquote, are in the zone for that particular game, whether you are talking about Walter Payton or Michael Jordan or whoever. It just seemed that Ryno was in the zone for that game and it was pretty much inexplicable for him to say what happened, how he did it. He just reacted and just had one of those great days.
Whitey Herzog: The wind was blowing out to left field and Sandberg hit a home run to tie the game. Then he hit a home run in the 11th inning, he's the first guy that's ever done that. And then here come the Chicago press after the game and they said what do you think about and I said well Ryne Sandberg is a Hall of Fame player and I called him "Baby Ruth". I guess it shocked some of them that I would say that but I'd seen him play from the time they got him from the Phillies. He was kind of the throw-in in that deal.  He had great range, great power and turned out to be a heckuva ballplayer. Sure enough he turned out to be a Hall of Famer.
Ryne Sandberg: No question about it, from that game on life was different. After that game, Whitey Herzog said I was the best player he had ever seen. He was caught in the moment and exaggerated, but that's how it came out. Well, I read that the next day and I was thinking I had to play really well the rest of the year so I didn't let him down or make a guy like that eat his words when he had built me up. I took that compliment personally and really took off after that. That game had a lot to do with the rest of my career.
Jim Frey: In anything you do and especially in sports, there seems to be something that clicks at a point where it turns people on, the players. There seems to be a team coming together, a team excitement, spirit. That Sandberg game I think was the thing that turned our season around. We were a pretty good team, and when we won that game, especially against the Cardinals, I mean that's a big series for the Cubs. When we won that game against the Cardinals on national television, it seemed to give everybody in the organization a lift. I think it gave our players a sense of confidence that maybe we can carry this through.
Rick Sutcliffe: The very first game my wife saw at Wrigley Field with me in a Cubs uniform was when Ryno just went absolutely crazy on that Saturday against the Cardinals.That was the day where Ryno basically became known to the nation. He won the MVP I think that day, not that he didn't continue to do a lot of things the whole year. I'll never forget after the game when I walked out, my wife was just crying with excitement. She goes, "Are all the games like that here?" We had come from Cleveland and there were more people at the park that day than we would normally see in a month. It was just amazing, the whole town and what was going on. Nobody could believe that it would actually happen, that we could get into the playoffs.
Keith Moreland: For games that stand out that year and any year, nobody will ever forget the Sandberg game. He hit those two home runs off Bruce Sutter and you can't forget that.
Bob Dernier: That game stood out because not only was Bruce Sutter a lights-out closer, but he threw that splitter that fell off the table and was hard to lift. How Ryno managed to get it over the wall twice was something and it added to the legend of that day.
Paul Sullivan – Chicago Tribune: Ryno to hit not only a game-tying, but a go-ahead home off Bruce Sutter the former Cub, to me that was just the greatest.
 Larry Bowa: That sort of put Ryno on the map and put the Cubs on the map. People obviously at that time didn't think we were for real. It was all "wait for August or September and the Cubs will fold." It didn't happen. Ryno went on to have a tremendous season.  That sort of put everybody on the map at the same time.
 Jody Davis: It was almost like we knew we were competitive, we knew we belonged with everybody. That game when we were dead, then came back and beat the Cardinals and to do it against at that time the premier reliever in the game in Bruce Sutter, it kind of made us feel that we could play with anybody, we could beat anybody, we were never out of it. And I think the fans felt the same way we did.
 Barry Rozner – Daily Herald (and a vendor at the game): That game didn't just change that season. It didn't change the standings. That game changed a guy's life. That game changed the franchise. Wrigley Field has never been the same and I think you can point back to that day as the game that really changed everything for the franchise.
 Keith Moreland: There's been a lot of great games. None better than that one. I'm prejudiced because I was in that game.
 Ryne Sandberg: It was a very special game for myself personally on how I viewed myself as a baseball player. To be able to hit those two home runs off Bruce Sutter and have the Cubs come within a half-game of 1st place which was a rare spot and a spot that I hadn't been with the Cubs.
-Bob Vorwald