This is an archived article and the information in the article may be outdated. Please look at the time stamp on the story to see when it was last updated.
A no-hit game is a well-pitched game with a lot of luck. – Ken Holtzman
Was there ever a happier day at Wrigley Field than August 19, 1969? It was a beautiful day for a huge crowd of 41,033, the Cubs were in first place, and the long-awaited return of the World Series appeared to be on the horizon. Throw in a masterpiece on the mound from Ken Holtzman and the sun may have never shown more brightly on the Friendly Confines than it did that day.
Ned Colletti – Bleacher Bum (now Dodgers General Manager): August 19, 1969, was one of the greatest days I've had. It was my teenage years in Franklin Park. It wasn't easy to get to Wrigley Field from where I lived, but managed to take a train every day and a couple buses. I probably went to 40-50 games a year when I didn't have my own games at night. Thankfully they had all day games back then at Wrigley.
With Cub fever at epidemic proportions. the Atlanta Braves hit town for what appeared to be a playoff preview between the National League division leaders (1969 was the first year the leagues split into divisions). Left-hander Holtzman took the mound for the Cubs and it was quickly evident that he was sharp as the Braves went down in order in the first.
Ron Santo lined a three-run homer off knuckleballer Phil Niekro in the bottom of the first to put the Cubs in front 3-0. The drive caught Santo by surprise since the conditions and the pitcher weren't in his favor.
Colletti: Ron Santo who I had known since I was about ten years old hit a three-run homer off Phil Niekro in the first inning. He hit it low and the wind didn't knock it down.
Ron Santo: That's the only home run I ever hit off Niekro. I always tried different bats with him, but the first inning he threw me a fastball and I hit a line drive under the wind in the left field seats.
Holtzman breezed through the first few innings, but his stuff was anything but magical.
Holtzman: I was just going to go out there and throw strikes. I wasn't going to try and fool around with the wind blowing in, even if I gave up a lot of fly balls, yeah, you might give up one home run, but if you don't walk anybody and throw the ball over the plate, you had a pretty good idea that you might be successful and that's what happened. I was throwing strike after strike after strike.
Jack Rosenberg – WGN Sports Editor: The thing that was ironic was that he pitched a no-hitter with no strikeouts, which was incredible since Holtzman was a strikeout pitcher. The other thing that was memorable is that Holtzman threw nothing but fastballs the whole game. He never threw a curveball.
Holtzman: I didn't have a lot of walks or anything so I really didn't have to try for a strikeout. I just went and through 99% fastballs and tried to move it around a little bit and they kept hitting the ball at everybody.
Holtzman walked two Braves through six innings and face Hank Aaron to lead off the seventh. The Hammer crushed a drive to left field. What happened next involved the wind, the ivy, the unique crook in the Wrigley Field wall, and the tenacity of Billy Williams to produce one of the signature moments in the ballpark's history.
Jack Brickhouse call on WGN-TV: That's well-hit and there I believe goes the no-hitter…
Hank Aaron: The thing that I remember most about playing at Wrigley Field not hitting a home run, hitting probably the hardest ball I've ever hit in my life off Kenny Holtzman when he pitched a no-hitter.
Vince Lloyd call on WGN Radio: 2-2 pitch, Aaron swings, that baby is hit! Look out it's way back there in left field….
Holtzman: I had pitched long enough to recognize the crack of the bat and the trajectory. When you throw a pitch like that, especially to a guy like Hank Aaron, OK, well now the score is 3-1.
Aaron: It was out of the ballpark. It was the hardest ball I ever hit. I don't know why or how it stayed in the ballpark and came right in that little trough in Wrigley Field is where Billy ended up catching the ball. I thought for sure that I hit a home run and sure enough the wind blew it right back to Billy Williams. We get telling stories at Cooperstown every year and Billy always reminds me about that play.
Billy Williams: Actually when the ball was hit, my first reaction was to give up on it. I happened to look around and I looked at the flag in center field and the wind was blowing in hard, so I gave it a try. Lo and behold, the ball started to come back in, because the ball was out of the ballpark. The only way I could catch that ball was to turn sideways.
Bruce Miles – Daily Herald baseball writer: Talk about a memory. I can still see watching WGN Channel 9 and Billy Williams going into that well, into the ivy, in 1969 to make that catch. He never gave up on the ball.
Jack Brickhouse call: CAUGHT!!!! CAUGHT BY WILLIAMS!!!"
Vince Lloyd call: Billy Williams back to the bleachers, back to the corner. HE GRABBED IT!!!! HOLY MACKEREL!!!!! That ball was ticketed for the bleachers and the wind moved it just away from the bleachers to the farthest corner of the wall out there and Billy Williams staying with it grabbed it right up against the vines!!!
Williams: I stayed with the ball and all of a sudden here it is in the glove. The no-hitter's intact. It was really something because Aaron had gone into a little trot going around 1st base. He really thought the ball was hit out of the ballpark.
Holtzman: I didn't know what to make of it. I was concentrating so hard on pitching the game and pitch after pitch and everything like that. I can remember at the time I said you know there's something special going on in this game and I can't explain it. You just go ahead and pitch but yet when that happened I thought maybe it's one of those days, I don't know."
There was no doubt from everyone in attendance that Aaron's ball had blown back into the ballpark. How it happened no one knows. One legend is that one of the regulars stood up in the bleachers and yelled, " Blow Bums blow!!!!"
 Aaron: I don't who blew it back but it certainly came back!
Holtzman: When he hit it I'll never forget, Billy caught it in that little nook out in left field and Hammer was almost to second base and he kind of turned around and gave me a quizzical look, like if that doesn't go out I don't know what can.
The Cubs had to use two catchers that day. Gene Oliver came into the game in the 8th inning after Bill Heath broke his hand, but nothing fazed Holtzman. With two out in the 9th, Hammerin' Hank stepped back in for the Braves. Holtzman went right at him, making no attempt to pitch around the National League's most dangerous hitter.
 Aaron: The most ironic thing that day was that I made the last out, so Kenny Holtzman was not afraid to pitch to me. He came right back and got me for the last out. I hit a ground ball to second base and that was that.
Holtzman: That's the way we thought. I'm trying to win the game and go nine innings. If I get a no-hitter that's great, but that's not the reason I'm out there.
Jack Brickhouse call: Ball 3 strike 2, here it goes. Ground ball! Beckert up with it!. Throw to Banks.  IT'S A NO-HITTER FOR KENNY HOLTZMAN! LOOK AT THIS! OH BROTHER!"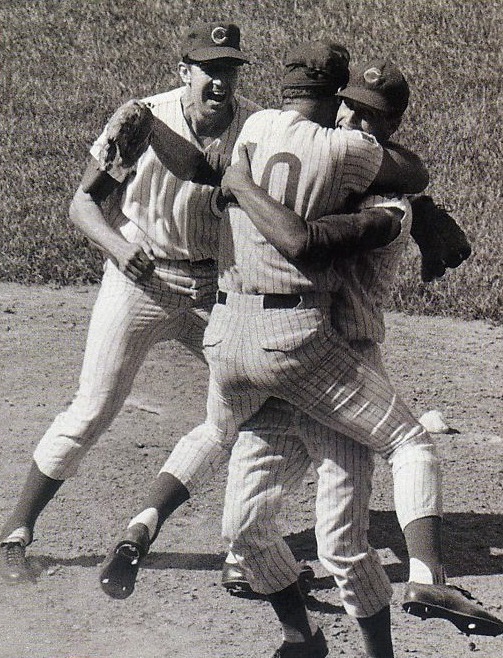 Holtzman: Aaron was also the last hitter of the game. I had a 3-0 lead, there were two outs in the bottom of the ninth, the crowd is going absolutely crazy, I can't hear myself think and Geno Oliver back there, he just wanted me to stay away from him. He may get a hit, but let's stay away from him, you know. I've still got to try and win the game. So I threw it as hard as I could and kept it away and he hit a ground ball at Beckert. I turned around when he hit it, he didn't really hit it that hard, and Beck is shaking, he's nervous boy. I don't think he wanted that ball hit to him.  He kind of double-clutched at it a couple of times. Finally he put his glove on it and knowing Beck, I was lucky he didn't throw it into the fourth row. He was only twenty feet away from Ernie, but yet he got it over there. You saw him kind of shake a little bit like he had nerves. He finally got enough and he threw it over to Ernie and that was the last I remember because Santo jumped on me and I don't remember anything after that.
Glenn Beckert: When I went down, I wanted to make real sure that ball wasn't going through, because Hank Aaron wasn't really running that good. All I had to do was get it out. I analyzed this – over all the years I played against Hank Aaron, he only hit me two ground balls and that was the last one. He pulled everything. I was telling them, "be ready Ronnie, he's coming your way. C'mon Kess, you can do it", then he hits me the ball.
Holtzman: Baloney. He was nervous reaching for it and we called him "Shakey" because of that for years.
Colletti: I was so excited I broke my glasses. For some crazy reason about 40 of us jumped on the field. I wore glasses at that time and I remember hitting the warning track and my glasses went one way and I went the other.
Rosenberg: '69 When he won that no-hitter I think all of us were positive this has to be a year of destiny. This has to be it.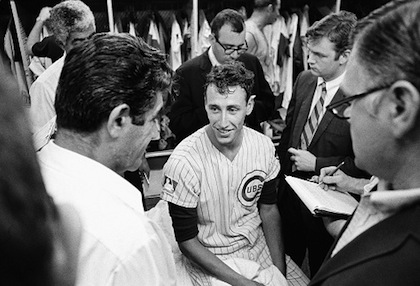 With Holtzman's victory, the Cubs were a season-high 32 games over .500 and their lead over the Mets in the East Division was eight game. The Cubs went 15-25 the remainder of the season and well….you know the rest.
 -Bob Vorwald