This is an archived article and the information in the article may be outdated. Please look at the time stamp on the story to see when it was last updated.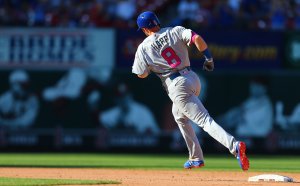 ST. LOUIS — Cardinals starter Carlos Martinez had his second straight two-hit game, Tommy Pham kept up his strong start to the season and St. Louis beat the Chicago Cubs 5-3 on Saturday.
Martinez scored Pham on a squeeze bunt in the third inning. Chicago left-hander Jon Lester tried to field the ball and flip it home, but the attempt came up short while Martinez took second with nobody covering.
Martinez also doubled leading off the fifth inning. In his previous start May 8, he drove home four runs and had two hits, including a double.
In a rematch of the season opener, Martinez (3-3) again topped Lester (1-2). Martinez allowed three runs, five hits and four walks over 6 2/3 innings, striking out seven.
Top Cubs prospect Ian Happ homered off Martinez in the seventh for his first hit in his major league debut.
Pham had two hits, two RBIs, a walk and a stolen base. The outfielder is batting .387 with seven extra-base hits in eight games since being recalled from Triple-A this month.
Seung Hwan Oh pitched the ninth, giving up a two-out single before picking up his 10th save in 11 opportunities.
Lester labored, throwing 112 pitches in 5 2/3 innings. He allowed six hits and four runs, three earned, walked four and struck out nine.
St. Louis went ahead 3-1 in a two-run fourth inning. Jedd Gyorko led off with a home run, and Yadier Molina followed with a single and then stole his 50th career base. Pham singled Molina home after Greg Garcia's sacrifice bunt.
Chicago went up 1-0 in the second when Lester, batting eighth, hit a long drive off the wall in center for a two-out double that scored Javier Baez.
Happ was called out for interference on a hard slide into second base in the fifth inning. On a grounder by Anthony Rizzo, Happ slid past the bag while shortstop Aledmys Diaz fielded a flip from Martinez, and Rizzo was ruled out at first because of the violation. Kyle Schwarber had scored from third base, but that run was nullified by the double play.
Reigning NL MVP Kris Bryant missed his second game with a stomach flu.