This is an archived article and the information in the article may be outdated. Please look at the time stamp on the story to see when it was last updated.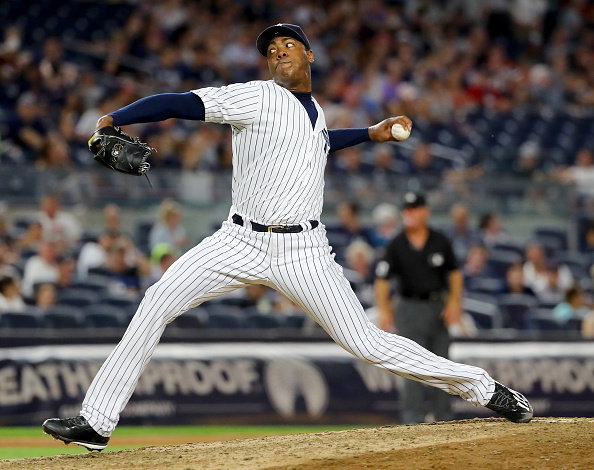 CHICAGO — The Chicago Cubs have reportedly added another piece to their bullpen — and it's a big one.
According to multiple reports, New York Yankees closer Aroldis Chapman is headed to the North Side in exchange for prospect Gleyber Torres, pitcher Adam Warren and one or two more pieces.
Official – #Cubs acquire Aroldis Chapman

— Pete Pistone (@PPistone) July 25, 2016
Yanks and Cubs have a deal. Torres, mckinney, Warren and likely 1 more to NYY.

— Jon Heyman (@JonHeyman) July 25, 2016
Updating: Per @Joelsherman1, #Cubs–#Yankees trade, if completed, would be Chapman for Torres, Warren and likely two others.

— Ken Rosenthal (@Ken_Rosenthal) July 25, 2016
#Cubs deal to #Yankees would be headed by Gleyber Torres and Adam Warren is in deal. Neither Jorge Soler nor Javier Candelario is in deal

— Joel Sherman (@Joelsherman1) July 25, 2016
Yanks and cubs are working on torres-plus for chapman deal, and hoping to finalize

— Jon Heyman (@JonHeyman) July 24, 2016
Multiple reports indicated the players had been agreed upon overnight, and that the deal just needed fine-tuning.
Chapman, 28, is a lefty fireballer known for his fastball, which tops out at more than 100 mph. He has dominated batters this year to the tune of a 2.01 ERA and 44 strikeouts over 31.1 innings.
The Cubs are well-acquainted with the Cuba native: Chapman spent six seasons in the NL Central Division with the Cincinnati Reds.
Chapman was suspended 30 games at the start of the season for violating MLB's domestic abuse policy.