This is an archived article and the information in the article may be outdated. Please look at the time stamp on the story to see when it was last updated.
CHICAGO — The details of the Chicago Cubs celebration parade have been announced.
A celebration rally in Grant Park is set for noon.  It will be preceded by a downtown parade beginning at 11 a.m.
The parade route will start at approximately 11 a.m., leaving Wrigley at approximately 10 a.m., and will travel along Michigan Ave between Oak St. and Ohio St. and then along Columbus Dr. between Monroe St. and Balbo Ave.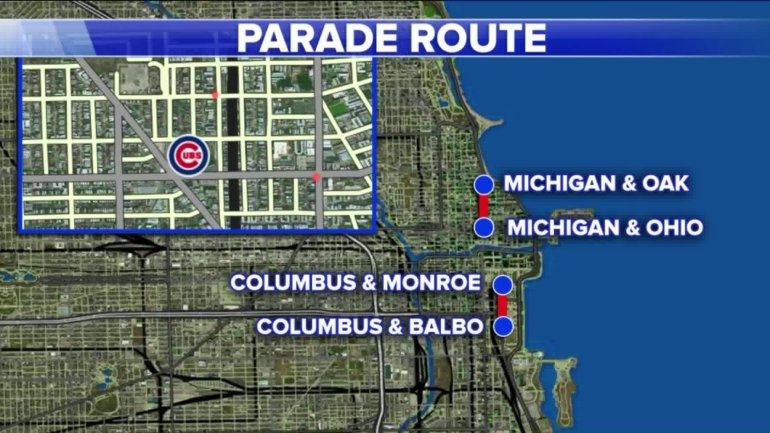 Fans are encouraged to view the parade at the following locations:
Addison from Sheffield to Pine Grove
North Michigan Avenue from Oak St. to Ohio St.
Columbus Dr. from Monroe St. to Balbo Ave.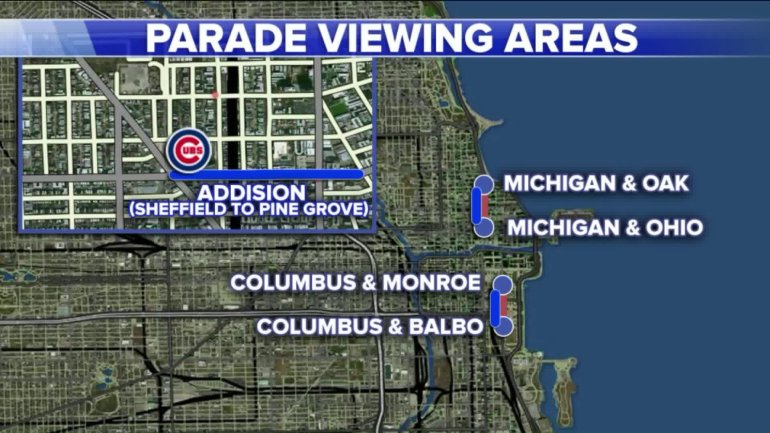 The rally will take place at Lower Hutchinson Field in Grant Park at approximately noon, when the motorcade arrives in Grant Park.
The rally is free and open to the public.
All attendees must pass through security screening at entrances at Michigan Ave. and Jackson Blvd. and at Michigan Ave. and Congress Pkwy.
"It will be a parade and a celebration that all of Chicago for 108 years in their minds eye have been envisioning, and we're going to make it a reality here in the City of Chicago," Mayor Emanuel said.
Tom Skilling and the Chicago Weather Center predicts a beautiful day for a parade:
PERFECT WEATHER FOR A CELEBRATION FRIDAY!! Parade temps below to go with plentiful sunshine. @WGNNews @Cubs #cubsparade pic.twitter.com/YuBL9hSf4e

— Bill Snyder (@billyweather) November 3, 2016
If you can't make it to the parade, WGN News will be covering the event all day long: