This is an archived article and the information in the article may be outdated. Please look at the time stamp on the story to see when it was last updated.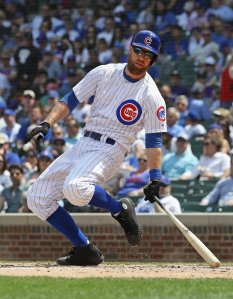 CHICAGO - Ben Zobrist is old school. He lives blocks away from Wrigley Field. Sometimes, when he rides his bike to work, he'll wear his PF Flyers - made famous by Benny the Jet Rodriguez in Sandlot.
But he might have to stop lacing them up for games.
Major League Baseball wrote Zobrist a letter Friday, warning him that his all black cleats violated Section G of the Uniform Regulation, which states "51% of the exterior of each player's shoes be the Club's designated primary shoe color." The league went on to say that if he continues to wear them, he risks being fined.
Zobrist promptly responded on instagram.
Dear @mlb, I still like you but this is rediculous. For the last two years, I have worn black spikes exclusively at Wrigley Field for Day games to pay homage to the history of our great game, and now I am being told I will be fined and disciplined if I continue to wear them. When I was a kid, I was inspired by highlights of the greats such as Ernie Banks and Stan Musial in the 1950s-60s and was captured by the old uniforms and all black cleats with flaps.@newbalancebaseball made a kid's dream come true by making some all black spikes with the special tongue as well as the "Benny the Jet" @pf_flyers cleats. I am curious as to why @mlb is spending time and money enforcing this now when they haven't done it previously in the last year and beyond. I have heard nothing but compliments from fans that enjoy the "old school" look. Maybe there is some kid out there that will be inspired to look more into the history of the game by the "flexibility" that I prefer in the color of my shoes. Sincerely,
Ben Zobrist
The PF Flyers instagram account backed Zobrist's stand.