This is an archived article and the information in the article may be outdated. Please look at the time stamp on the story to see when it was last updated.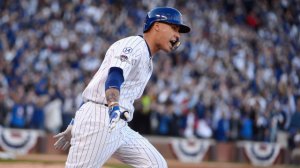 Well, we know what Javier Baez is thankful for this year.
The Cubs infielder's "good hair year" earned him a top Google trending celebrity hair search of 2017. He joins Jeremy Lin, Steph Curry, Selena Gomez, Halle Berry and Michelle Obama on the list.
Baez thanked his Instagram followers for making his "do" a top search in a post Saturday.