This is an archived article and the information in the article may be outdated. Please look at the time stamp on the story to see when it was last updated.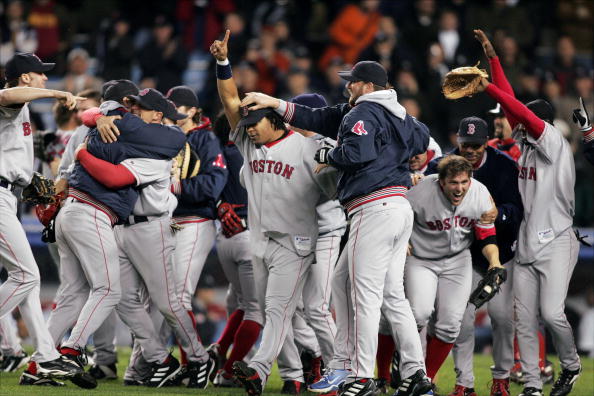 CHICAGO — The Chicago Cubs don't need to win four games in a row. They need to win one.
That's how fans need to look at the predicament the Cubs are in right now. And if they do that, then they need to win one again. And then another. You get the idea.
It's a Mesozoic-era sports cliche, "one game at a time," and it is overused for a sport that boasts a 162-game regular season and a potentially 20-game postseason. But it will never be more true than right now for Cubs fans.
I was a sophomore in high school the year the Boston Red Sox came back against the New York Yankees in 2004. Those four days in October (this later being an appropriate title for an ESPN documentary on the comeback) were unlike anything I'd ever experience again as a fan. The tales of the 2004 Red Sox and 2015 Cubs are not exact parallels by any means, but there were things that happened then from which both the Cubs and their fans can draw.
On Oct. 16, 2004, the Red Sox and their fans were reeling. My parents and I had come down from Maine for Game 3 of the ALCS at Fenway Park, only to see our team not just get outdueled, like the Cubs did Tuesday 5-2, but rather get famously clobbered by the Yankees that night 19-8. But this was supposed to be our year. We were one year removed from blowing an epic Game 7 against these very same Yankees. But this time, we had an ace with postseason experience and a new manager (sound familiar?). We had a new closer. None of it seemed to matter, though, as the Red Sox were, like the Cubs are now, facing a 3-0 series hole. I remember thinking as I sulked back to the hotel, "I just hope we don't get swept."
Then came a prophecy. Red Sox first baseman Kevin Millar, now a TV analyst for MLB Network, famously told Boston Globe columnist Dan Shaughnessy before Game 4, "Don't let us win today." First off, the Red Sox had two more games at home. Win Game 4, he said, and things change a little. The Red Sox would have aces going in both Games 5 and 6, and anything can happen in a Game 7.
But as fans we weren't even thinking that far ahead. We just wanted to win one. My parents and I had tickets to Games 4 and 5, knowing each could be the last time we got to see our team play.
In the ninth inning of Game 4, it looked like the end. The Red Sox trailed 4-3 with Yankees closer Mariano Rivera looking for the save.
If you know baseball, you know what happens next.
Millar walked, pinch runner Dave Roberts stole second and scored the tying run. Three innings later in the bottom of the 12th, postseason legend David Ortiz hammered one to right field for a walk-off home run. Fenway went into a frenzy. The Bee Gees' "Staying Alive" roared from the speakers. My family and I, and millions of other fans, got to see one more game. That's all we had hoped for. The streets around Kenmore Square in Boston were filled with a newfound sense of pride, of hope that maybe — just maybe — we could do this. But for now, we were living in the moment of one game.
Then came Game 5. Again, things looked bleak. The Red Sox trailed by two in the eighth. A home run by Ortiz cut the lead in half. A sacrifice fly later in the inning tied it. Each big play, each crucial moment I watched between divided fingers covering my face in anxiety. Each time there was a happy ending, a reason to remove my hands from over my eyes and hold them high in the air.
Who were these Red Sox? All of a sudden the team that hadn't won a championship in 86 years was delivering with the good fortune and timely performances that had eluded them for so long. A base hit by Ortiz in the bottom of the 14th sent the series back to New York. All of a sudden, the pressure was on the Yankees.
It's a funny thing, momentum. Win one, and you stay alive. Win another, and doubt creeps into the other team. Win one more, and all bets are off. What the Red Sox did to the Yankees the Cubs can do to the Mets. It can be done. The Red Sox are proof.
In Game 6 Curt Schilling threw a game for the ages in a performance one teammate, Bronson Arroyo, later called "barbaric." With blood flowing from his injured ankle, donning a red-soaked sock, Schilling shut down the Yankees to force Game 7.
Game 7 was a coronation. The Red Sox took the lead in the first inning and never looked back. All of a sudden an avalanche of joy the likes of which Red Sox fans had never felt came pouring out. The first MLB team ever to come back down 3-0 in a series. That had a nice ring to it. A week later, the 86-year drought was over when the Red Sox beat the St. Louis Cardinals in the World Series. That came with an even nicer ring.
But it all started with one game. The Cubs hope to do the same this week, and it all starts Wednesday night. Who knows if they'll win, or how it will happen, but fans should relish in each moment. In a way the Cubs, like the Red Sox in 2004, are playing with house money. Each game is now like the Super Bowl – only with the potential to be even better.
Enjoy it while it lasts, fans. The stories of the 2004 Red Sox and 2015 Cubs are in many ways very different. The Red Sox then were big business, a team of high-priced veterans in the second half of their careers. The Cubs are a startup, still in the early stages of what should be a long run of success thanks to a core of rising stars. In many ways the Cubs' position now is much better than Boston's was a decade ago.
As Harry Caray said back in 1991, "Some day the Chicago Cubs are going to be in the World Series." After that, everything changes. Two more World Series later, and the once-"cursed" Red Sox are now more like their rival Yankees than they are the Cubs. One day, the Cubs will wash away decades of frustration, too, and things will never be the same.
Any team can win four games in a row. But it has to start with one. If you believe in such things as "curses," maybe this is how they have to be broken.
The Cubs will try to win one game in a row Wednesday night.​
Thomas Owen is an interactive news producer at WGN-TV. He grew up in Maine rooting for the Red Sox and moved to Chicago in 2011.