This is an archived article and the information in the article may be outdated. Please look at the time stamp on the story to see when it was last updated.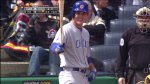 Finally a laugher last night as Scott Feldman handcuffed his former team in yet another starting pitching gem.  And if you care to know, Anthony Rizzo's numbers are pretty impressive all the sudden.  His early season struggles with the batting average were hiding his power and patience, but now he's getting hits consistently and carries a .905 OPS into action tonight.
Alfonso Soriano is working his way out of an early season malaise too and if those two guys stay hot, this offense looks a whole lot better.
The bullpen will get a shot in the arm with the impending return of Kyuji Fujikawa, as early as this weekend in Washington.  And then hopefully in a couple weeks Matt Garza will be back, which means one of the starters can head to the pen as well.
So while things have looked pretty bleak at times, a well-timed blowout win to go along with those other positive developments make you feel like the Cubs' fortunes could be changing soon.
They certainly need to get it going soon or the trade rumor mill will heat up by June 1.
len