This is an archived article and the information in the article may be outdated. Please look at the time stamp on the story to see when it was last updated.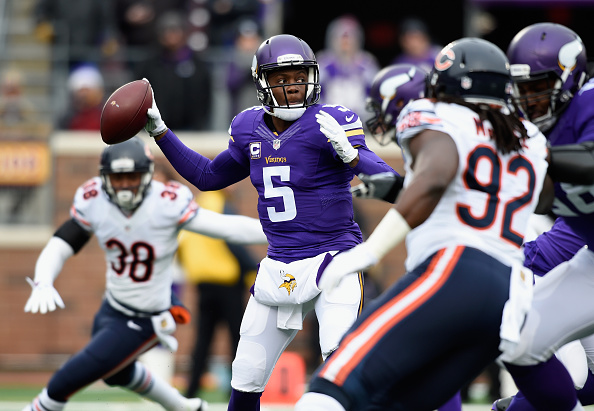 MINNEAPOLIS — Teddy Bridgewater threw a career-high four touchdowns and ran for another one, and the Minnesota Vikings took a significant step toward clinching a spot in the playoffs with a 38-17 victory Sunday over the Chicago Bears.
Bridgewater completed 17 of 20 passes for 231 yards without a turnover, connecting twice with Stefon Diggs for scores. Jerick McKinnon and Zach Line had the other touchdown catches on a remarkably productive afternoon for all of Minnesota's running backs.
Adrian Peterson missed some time because of an injury to his left ankle, but he still finished with 63 yards on 18 attempts to maintain his NFL rushing lead. The Vikings (9-5) stopped their two-game losing streak. They turned a lost fumble and an interception thrown by Jay Cutler into 14 second-half points.