This is an archived article and the information in the article may be outdated. Please look at the time stamp on the story to see when it was last updated.
The Blackhawks' post-season starts Tuesday night with Game 1 against the Wild at the United Center.
The Hawks beat Minnesota twice in the regular season, and only lost once in a shootout.
Ray Emery and Dave Bolland are both out with lower body injuries.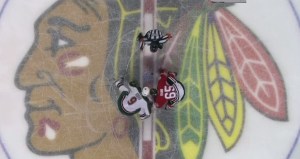 The Hawks are the top seed, but three of the last four president's cup winners were eliminated in the first round, and the eighth-seed Kings won the Stanley Cup last year.
Also, Hawks winger Patrick Kane was sporting a mullet during Tuesday morning skate prior to the game.
"It's pretty short right now," said Kane, who is featuring three racing stripes above each ear. "Hopefully, it will have some time to grow in. We have myself and a new addition to the team this year that wanted to do it too. (Brandon) Saad joined in on the mullet trend and his looks pretty good. It's a little fun."
Kane sported a mullet during the Hawks' run to the Stanley Cup in 2010 and also the following season against the Canucks in the first round. He did not get the cut during last season's playoffs against the Phoenix Coyotes.
The Chicago Tribune contributed to this report.
PHOTO: Bryan Bickell takes a pass from Brandon Saad and scores in the first period during the Blackhawks v. Wild game in early March.