This is an archived article and the information in the article may be outdated. Please look at the time stamp on the story to see when it was last updated.
There seems to be a budding debate about whether the Bears can build a bridge to repair relations and retire the jersey number of a certain disgruntled former employee.
It will happen this season.
Dat's right. For Michael Keller Ditka Jr., the man also known as Da Coach and perhaps more associated with the cornerstone franchise of the NFL than anyone alive, the wait is over.
Two sources have told the Tribune the Bears will retire Ditka's No.89 in a ceremony during the Dec. 9 "Monday Night Football" game against the Cowboys at Soldier Field.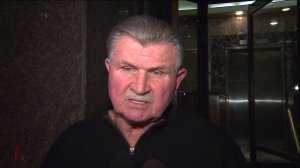 The tight end last played for the Bears 47 years ago, coached the team to its lone Super Bowl championship 27 years ago and was inducted into the Pro Football Hall of Fame 25 years ago. Ditka, 73, will become the 14th Bears player to have his number retired and the first since Dick Butkus and Gale Sayers were honored in 1994, more than two decades after they had retired as players. Fourteen is more than any other NFL team and trails only baseball's Yankees (15) and the NBA's Celtics (21). Sports Illustrated dubbed him the greatest No. 89 to play sports, and he was the first tight end enshrined in the Hall of Fame.
Several Hall of Fame Bears have not had their numbers retired, including three of Ditka's players from the Super Bowl team — Richard Dent, Dan Hampton and Mike Singletary. Most recently discussion has centered on whether just-retired linebacker Brian Urlacher one day will be honored. But no one can argue any player is more deserving than Ditka.
The decision to honor Ditka, a star on the 1963 NFL championship team, is a significant move for the organization and perhaps a sign of a new way of business under Chairman George McCaskey, who took over the role two years ago this month. Ditka has feuded with the McCaskeys in the past, and it was previous CEO Michael McCaskey who fired him as coach after the 1992 season.
Shortly before club founder George Halas traded Ditka to the Eagles in 1967 for quarterback Jack Concannon, Ditka uttered these famous words: "Halas throws nickels around like manhole covers."
Asked about his contract situation under Michael McCaskey before the 1984 season, Ditka said: "I have a lifetime contract with God. Who needs anything else?"
Legend has it after he was fired, Ditka carried a Mike Royko column from the Tribune in his wallet in which Royko labeled McCaskey a "weenie" nine times. So to suggest there was mending that has needed to be done in recent years is an understatement.
When the Bears unveiled a 261/2-foot tall granite bas-relief sculpture in the west concourse of Soldier Field in 2004, it depicted the contributions of Halas to the game and the history of the franchise. It was unexplainable how Ditka was omitted from the historical timepiece as Halas had brought Ditka back to the franchise from the Cowboys as head coach in 1982 and he delivered the team's only Lombardi Trophy.
"At the very least, it's petty. At the most, it's ridiculous," Hampton said at the time. "Travesty isn't enough here. This is absurd. Maybe we should be surprised that Michael McCaskey didn't make it."
Depicted in the sculpture are Bronko Nagurski, Red Grange, Sid Luckman, Bill George, Walter Payton, Sayers, Butkus and Singletary.
"Sure, Ditka should have been part of it," then-Mayor Richard M. Daley said. "I bet there should have been a lot of other people being part of it. That's up to the McCaskeys to figure out."
George McCaskey apparently deserves credit for getting it done, and the timing of the Cowboys game is right as Ditka won a Super Bowl ring as a player and assistant coach in Dallas. The Monday night game fits with Ditka's ESPN work, so the network can play it up.
Twelve players have worn No.89 since Ditka, most recently tight end Matt Spaeth the last two seasons. He was the first to wear the number since Dustin Lyman (2000-04), and the number is not currently assigned. Because the Bears have retired so many numbers, it has created issues. Hampton's 99 (Shea McClellin) and Dent's 95 (Cheta Ozougwu) remain in regular use, but Singletary's 50 was out of circulation since his retirement in 1992 until he gave his blessing for new strong-side linebacker James Anderson to use it this season. Anderson wore No. 50 with the Panthers.
Twenty-seven members of the Hall of Fame made their primary contribution with the Bears, so there is no way to hang up all the numbers for good. Not with a 53-man roster, an eight-man practice squad and NFL restrictions on what positions must use what numbers.
Nevertheless, Ditka finally will get his due, a sure sign relationships are healing.
Copyright © 2013 Chicago Tribune Company, LLC