This is an archived article and the information in the article may be outdated. Please look at the time stamp on the story to see when it was last updated.
(TEL AVIV, Israel) -- The year is 2020. The Chicago Bulls are in the NBA playoffs (that's conceivable, right?) and Lauri Markkanen steps to the free throw line in a tie game with seconds remaining. Imagine turning on your television screen (or tablet, phone) and seeing Markkanen's heart rate, pH levels and body temperature illuminated on the surface next to his rebounds and shooting percentage. Using that data, you can press a button on your remote or screen to place a wager if he'll make or miss the shot.
This is just the tip of the iceberg when glimpsing the future of sports. Innovation continues to rapidly transform the game-day experience for fans at the arena and at home, revolutionize the way we engage with the teams we love, and, through sound and virtual reality, bring us closer to the action like never before.
It was not until this week, however, that I realized just how much Israel, nicknamed "The Startup Nation," is at the forefront of the sports tech universe.
Thanks to the Israeli Consulate in Chicago, I was invited along with a group of international journalists to experience the immersive tech culture in Israel and how it's being used to disrupt the global sports market. A group of 10 journalists from nine countries--England, Spain, Italy, Germany, Brazil, Argentina, South Africa, Cameroon and the U.S.--travelled to Tel Aviv, Jerusalem and Haifa to tour startups, venture capital companies, a sports innovation accelerator and culminated with the inaugural Colosseum Sports Tech Summit July 25.
Here's what I learned.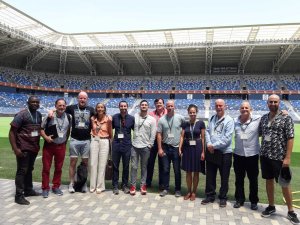 Israeli Innovation Ecosystem Breeds Success  
Israel is incredibly proud of the country's technological advances, and rightfully so. Despite being the size of New Jersey, Israel has the world's strongest tech ecosystem after the United States, according to Ran Natanzon, head of innovation and brand management for the Israeli Ministry of Foreign Affairs. Israel has 6,000 startups and the second largest number of companies on the NASDAQ. What's the secret? Natanzon says the mandatory military service (when they turn 18 boys must serve three years, girls two) and education system help build a strong foundation.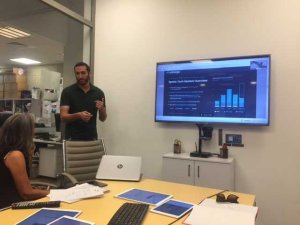 The entrepreneurial culture in the country thrives thanks to five key traits, says Natanzon: Diversity, challenging authority, making it OK to fail, a can-do attitude and "chutzpah." The government also highly incentivizes new technology. The Israel Innovation Authority was created to fund each stage of the innovation process. Companies like Jerusalem Venture Partners and OurCrowd our constantly searching for the latest startups wth global reach to invest in and help grow.
Content is king--and that's raising the stakes for immersive video and audio production 
Pixellot, an Israeli startup founded in 2014, aimed to solve a major problem in the sports world: while most of the broadcast attention highlighted "tier 1" sports like professional leagues and major college athletics, there was a growing need to produce lower league games, high school action, and women's sports. CEO Alon Werber says 95% of high school games in the U.S., and 70 percent of college games are not produced. Pixellot fills the gap by delivering fully automated production technology to courts, fields, and rinks across the world. Their 8K cameras are driven by artificial intelligence, requiring no camera operator or on-sight personnel. An algorithm uses data points captured by the cameras to determine what's going on at the game, such as who has the ball, who scores and what stats need to be updated.
"Our system is equivalent to a camera man with the ability to see into the future," Werber says.
The games are captured in real time and you can watch through the Pixellot app, which gives the viewer a completely customizable experience to create their own clips, replays and easily share to social media. Among the schools already using the platform is Hinsdale Central.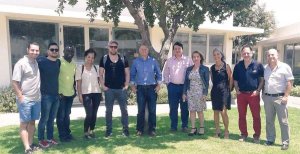 While video has been a focal point of sport tech, one market that remains underserved is sports audio. That's where InSoundz rings the bell. This Israeli startup fully immerses fans in the game by capturing, analyzing and filtering the sounds of the action in real time, isolating the desired audio free of background noise for their broadcast partners to use during the game. For instance, InSoundz technology let's you hear the third base coach's message to the base runner, the umpire's words with the batter after a disputed pitch, or a goalkeeper calling out instructions to his defense on the soccer pitch. The company's CEO Guy Etgar says there is no need to mic players, creating a less intrusive way to bring fans closer to their favorite teams and players. InSoundz has partnered with Major League Baseball and plans to highlight its service during the playoffs and be in every MLB park by 2019.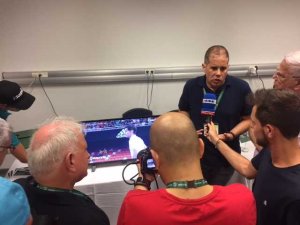 Finding new ways for fan engagement is more important than ever  
Fans are eager  to get a more intimate experience with their favorite teams and players, whether at the game or not. Tokabot is the world's first intelligent fan engagement and monetization platform. The company crunches "boring" numbers in real time and creates fun, informative content such as trivia questions, fan votes, stats and links. The user base accesses this material via social apps they already have, such as Facebook Messenger or WhatsApp.
Fans League tries to reward fans for their passion and dedication. The startup provides highly engaging mobile based competitions among fans. The users complete daily tasks competing amongst other fans to earn prizes.
Companies continue to use Virtual Reality as yet another way to change the fan experience. Intel wants to shorten the distance from the fans at home to those in the crowd. It's True VR tech uses volumetric capture production to deliver 180-360 degree video. It allows fans to enjoy the best seat in the house from their home. Intel Sports also uses volumetric capture and render in its True View technology. They install 38, 5K cameras around a venue to reconstruct every spot on the field and produce a 360 degree view of the action. Once the clip is produced its sent to the broadcaster to use as needed during the game. This technology debuted during the NCAA Final Four and is currently in 11 NFL stadiums, with Intel also partnering with MLB, PGA, NBA, Turner and ESPN.
Minute.ly is a startup which uses video optimization technology to highlight the most engaging portions, then creates 5-second teaser trailers which lead up to that moment in the game. Minute CEO Amit Golan says the platform enables publishers like news organizations to achieve instant results with video click through rates of more than 100%.
Companies are diving deep into the world of analytics  
While sports tech continues to create a more immersive experience for fans, the latest breakthroughs are focused on giving the players and teams a leg up on the competition by focusing on data. RSPCT's mission is to change the way basketball players, along with fans, understand and improv shooting. CEO Oren Moravchik says field goal percentage is often confused for accuracy percentage, but the two are very different. A player can go 12-of-20 from the field for 60 percent shooting but actually have worse accuracy than a player who went 10-for-12. Why? It's not just about how many shots go in, but where they hit inside the cylinder. RSPCT's technology places a small sensor behind the hoop to capture exactly where each shot hits. This data can then be used by teams and players to better evaluate where their misses are going and where their makes are landing. The results can be displayed during a live broadcast as well to better inform fans of how a player is "truly" shooting and can impact betting decisions.
The NBA has been one of the most analytically advanced sports leagues in the world over the last several years.  SportVu, for instance, tracks player movement to provide in-depth analysis and performance metrics. The company was founded by Miky Tamir, who also created Pixellott and now Track160, which offers a new way to track players during a game. Using cutting edge Deep Learning and computer vision methods, the technology eliminates the need for human operators or GPS sensors. The broadcast implications using this tech include instant replay from any viewpoint such as players POV, live navigable production, and virtual and augmented reality.
SenSwim uses analytics to revolutionize swim training. Co-founder and former Israeli Olympic swimmer Gal Nevo says coaches even at the highest levels still use stopwatches and whistles to train athletes. The SenSwim solution once again uses cameras and algorithms to break down a swimmer's time, stroke count, underwater dive and split time. The real-time results can be used by swim clubs at any level at affordable options.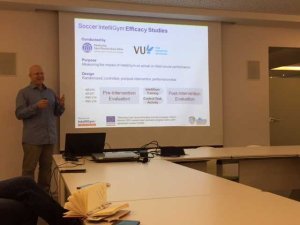 IntelliGym wants to fill the gap of athlete brain training. The software develops a computer game adaptive to the individual player that develops their cognitive skills. They design engaging, 30-minute games for athletes to play 2-3 times a week. The USA Hockey U18 National Team adopted Intelligym in 2009 and has seen incredible results since: the team has won 7 gold medals at the World Championships and seen goals per player increase 42%.
Main takeaways  
Innovation is changing how we consume sports. But what's fueling it is the changing fan behavior, said NFL commercial executive James Massing during a media panel at the Colosseum Sports Tech Summit. The key, he says, is using tech to find solutions to that behavior. Marco Maddaloni, former ESPN international executive, thinks this makes for a delicate time for the sports leagues and broadcasters.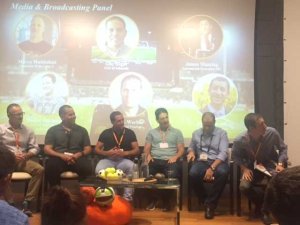 "We are moving away from the traditional broadcaster and (now) streaming, reaching fans where they are," Maddaloni said at the Colosseum Summit. "We want to provide content to fans, but also with traditional revenue streams like TV, we don't want to completely give that up."
Maddaloni adds that while he doesn't believe traditional broadcast are in immediate danger, rights holders needs to adapt and change ways they produce their content, continuing to go beyond the game
So where is Sports Tech going from here? Personalization. Sports leagues and broadcast partners are catering content toward the individual, putting the fan in control. That means more technology to choose the camera angles and replays you want to see, VR to view the field from the perspective of your favorite athlete and apps to seamlessly clip videos to share on social media.