This is an archived article and the information in the article may be outdated. Please look at the time stamp on the story to see when it was last updated.
CHICAGO – When they captured any one of their three Stanley Cup championships, they wanted to share their joy with the other teams in town.
One of those places was Wrigley Field, where the NHL's championship trophy made a few stops including June of 2015.
Cubs fans in the stands that day might have envisioned the team someday parading around the Commissioner's Trophy after winning a championship of their own. After 108 years, that finally happened last week as the Cubs defeated the Indians in the World Series to take home the championship.
On Sunday, the Blackhawks opened up their home to the Cubs just as they have done for them in years past.
New decorations tonight… pic.twitter.com/uJ4l0tUVIK

— Chicago Blackhawks (@NHLBlackhawks) November 7, 2016
During their game with the Dallas Stars at the United Center, the Blackhawks paid tribute to the Cubs in a number of ways. That started with an on-ice display before the start of the game, a picture of which the team shared on their Twitter account.
A few champions are on hand in Chicago.
🏒 🏆 ⚾ pic.twitter.com/5lkHamzEGX

— NHL (@NHL) November 7, 2016
Jason Heyward, Mike Montgomery, David Ross and Kyle Schwarber were the honored guests of the night as they were recognized before the game. The players hoisted the Commissioner's Trophy on the ice to a loud roar from the sellout crowd.
Thanks for dropping by, Champs! #FlyTheW pic.twitter.com/ljK995uOjP

— Chicago Blackhawks (@NHLBlackhawks) November 7, 2016
The team also got to go in the locker room before the game. On Twitter the Blackhawks pointed out the striking resemblance of Montgomery to forward Marian Hossa, who ended up scoring the game-winning goal in overtime.
"They say we look alike." The guy who got the final #WorldSeries out is looking forward to meeting the #DemiGod pic.twitter.com/OVz4olNpCM

— Chicago Blackhawks (@NHLBlackhawks) November 7, 2016
While the team spent the majority of the game watching the contest in a luxury box with the trophy, David Ross got the chance to take part in the "Shoot the Puck" contest during the intermission.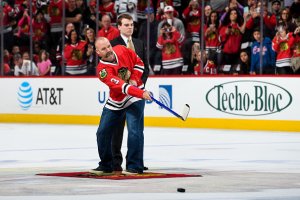 Unfortunately for Ross, he missed all of this three shots wide. But it didn't dampen the first of what could be a few more trips around town with the most coveted hardware in Chicago this fall and winter.