This is an archived article and the information in the article may be outdated. Please look at the time stamp on the story to see when it was last updated.
What are the best indoor/outdoor thermometers?
Mark Twain famously said, "Everyone talks about the weather, but nobody does anything about it." Forecasters on TV tell you the weather, but only on their schedule and not when you need it. Online weather tells you what's going on outside, but only in your general area.
An indoor/outdoor thermometer tells you the exact temperature and humidity inside and outside your home. Full-featured weather stations give you data on wind direction, precipitation and more.
What to know before you buy an indoor/outdoor thermometer
What is an indoor/outdoor thermometer?
An indoor/outdoor thermometer is one with an outdoor sensor and an indoor display with its own sensor. The sensors measure ambient temperature, humidity and more.
What is a weather station?
A weather station is an indoor/outdoor thermometer that provides you with much more weather information than just the temperature and humidity. People really interested in the weather prefer more complete devices that can measure the wind speed and direction, forecast the weather and alert you when bad weather is on the way. It is a common practice of sellers of weather stations to list them as indoor/outdoor thermometers.
Base station display screen
Indoor/outdoor thermometers feature two types of display screens, LCD and LED, and there are pros and cons to each.
LCD screen: They are less expensive and use less power, but have a narrower viewing angle and are often only monochrome.
LED screen: They offer long life, high efficiency and no heat. But they are more costly.
Where to place your outdoor sensor
Most manufacturers advise you to consider several things when choosing a place to mount sensors.
Direction: The north side of your home is the best place for most sensors.
Height: Your sensor needs to be at least 4 feet above the ground to prevent thermal radiation from giving you false readings. It also needs to be at least 1 foot below any overhang to prevent trapped heat from giving you inaccurate temperatures.
Sun: Avoid direct sun in favor of indirect sun or mild shade, because thermometers in direct sunlight deliver inaccurate temperatures.
Ventilation: Accuracy improves when your sensor is in an area where the air moves about freely without restrictions or swirling.
Windows, doors and vents: Never put a sensor above any of these. Heat or cold escaping from your home will give you false temperature readings.
Rain: Keep your sensor out of the rain but open to the air. The exception is sensors with rain gauges that need their collectors to be placed out in the open, at least 10 feet from walls and trees, and where the wind does not swirl.
Eaves: For most purposes, a great place for your outdoor sensor is 1 foot below the eaves on the north side of your house.
Best indoor/outdoor thermometers
Top indoor/outdoor thermometers under $50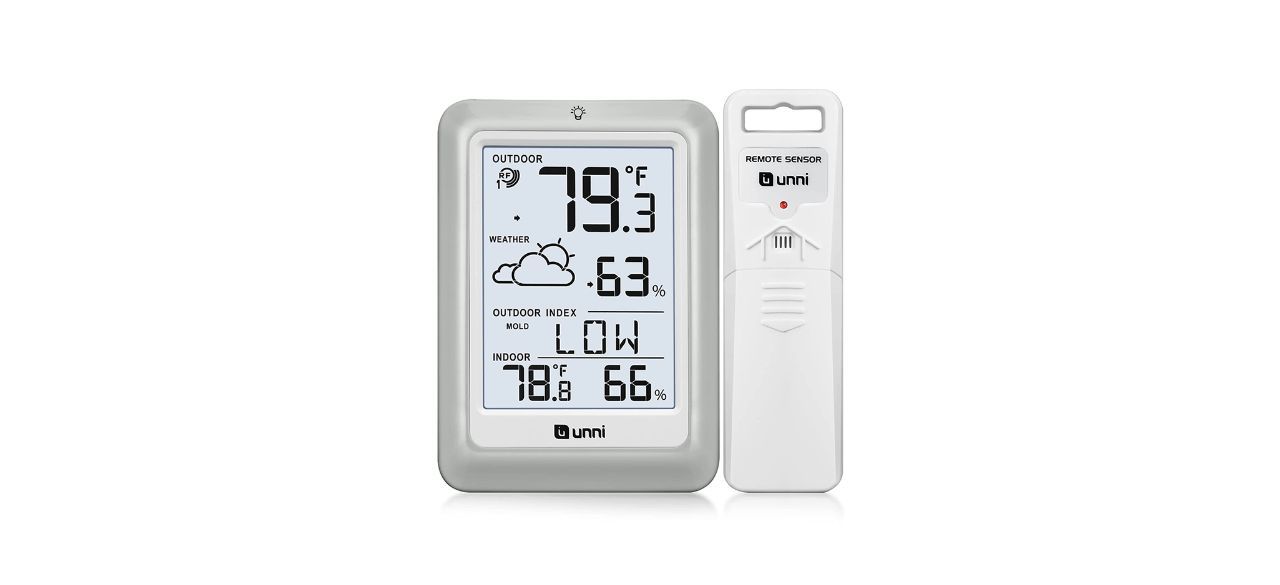 Unni Indoor/Outdoor Wireless Weather Station
The sensor has a 330-foot range and the liquid crystal display shows dew point, heat index and mold index along with the temperature and humidity.
Sold by Amazon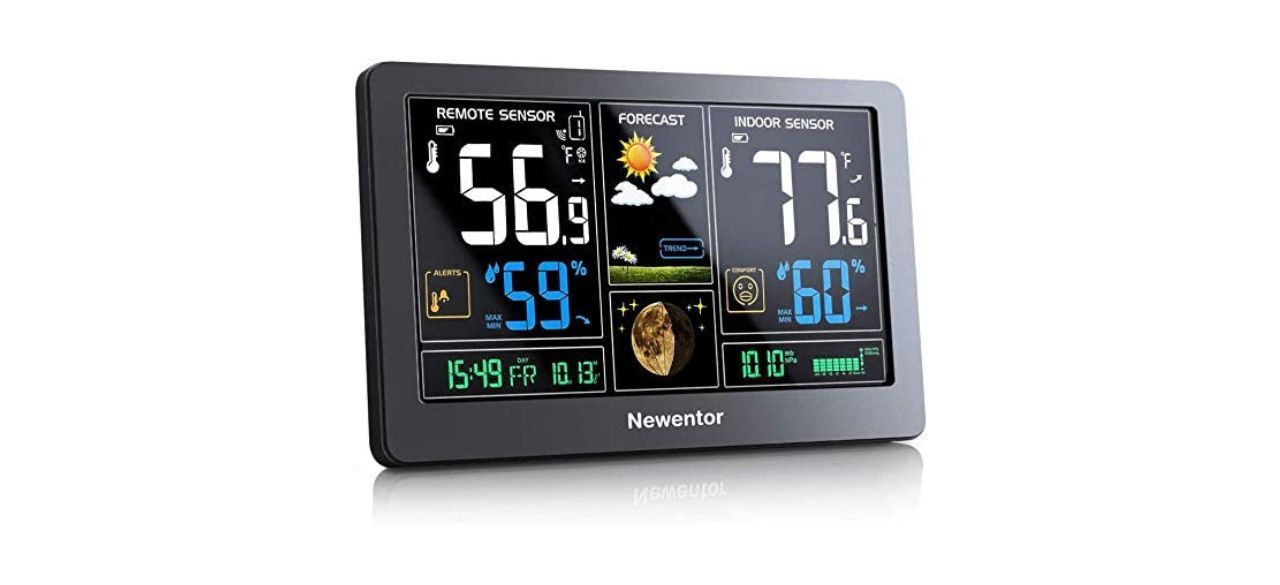 Newentor Wireless Digital Indoor/Outdoor Weather Forecast Station
The 7.5-inch LCD screen on this device is backlit for easier viewing and supports up to three remote sensors. In addition to indoor and outdoor temperature and humidity, it forecasts the weather for the next 10 days and shows the moon phase.
Sold by Amazon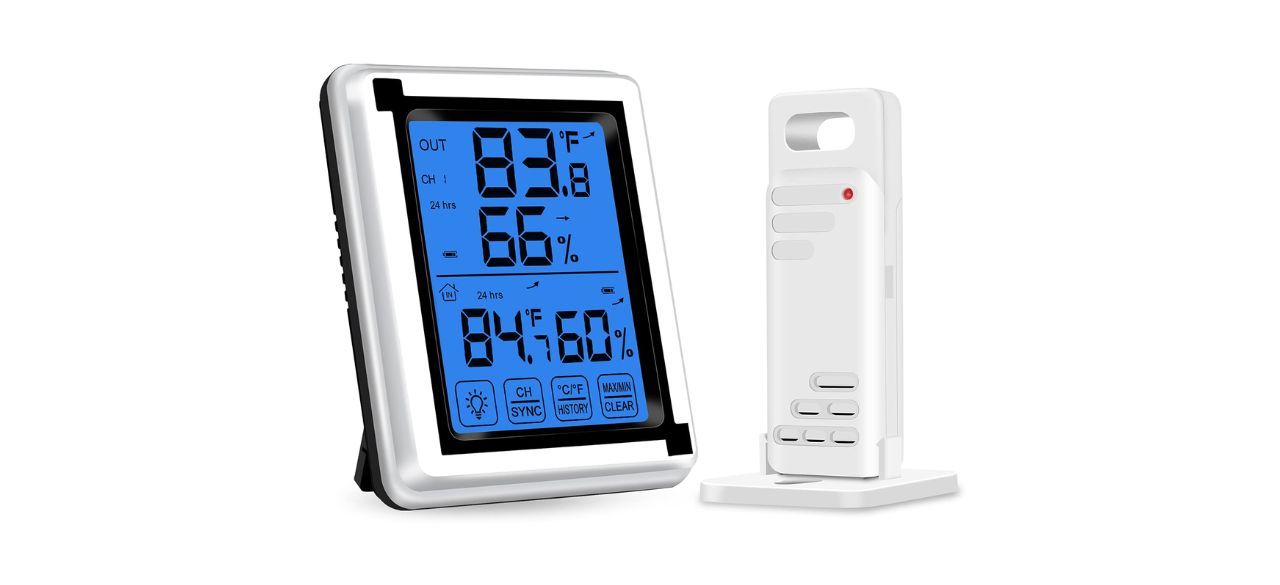 Vauno Wireless Indoor/Outdoor Temperature and Humidity Monitor
The manufacturer says the outdoor sensor should be located in the shade, away from objects heated by direct sunlight and within 200 feet of the base station. You can hook up three remote sensors to the 4.5-inch-tall base unit with an LCD touchscreen.
Sold by Amazon
Top indoor/outdoor thermometers for $50-$100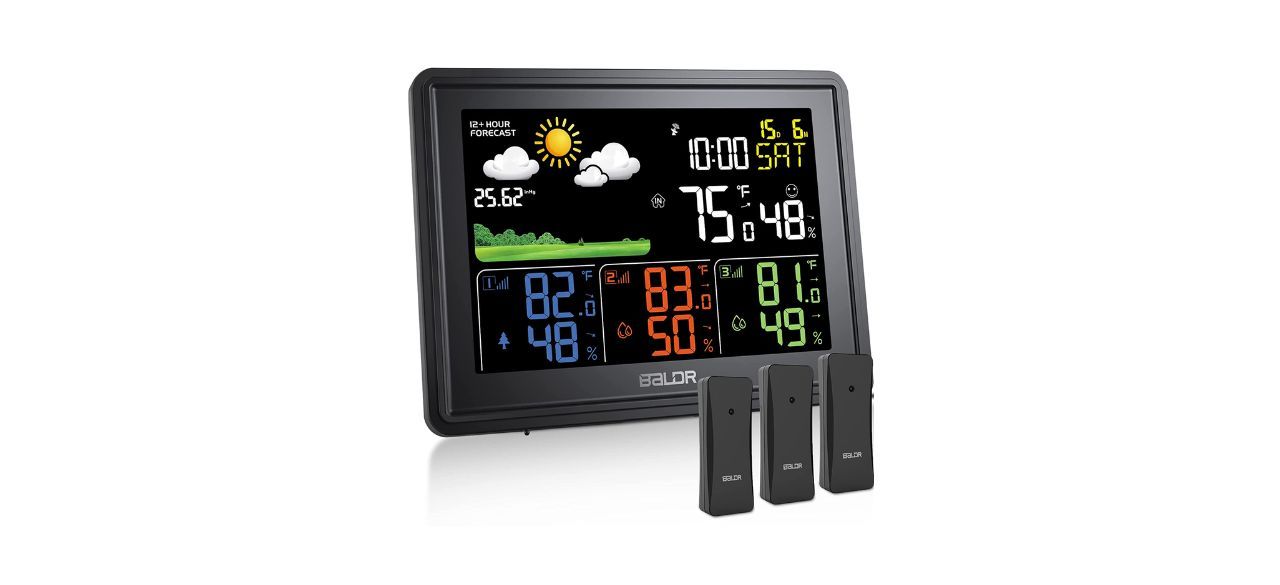 Baldr Indoor/Outdoor Thermometer and Wireless Weather Station
Data from three different sensors update every 30 seconds and are used to forecast the weather for the next 12 to 24 hours. The LED screen is bright and colorful, and the backlight can be set at four different levels.
Sold by Amazon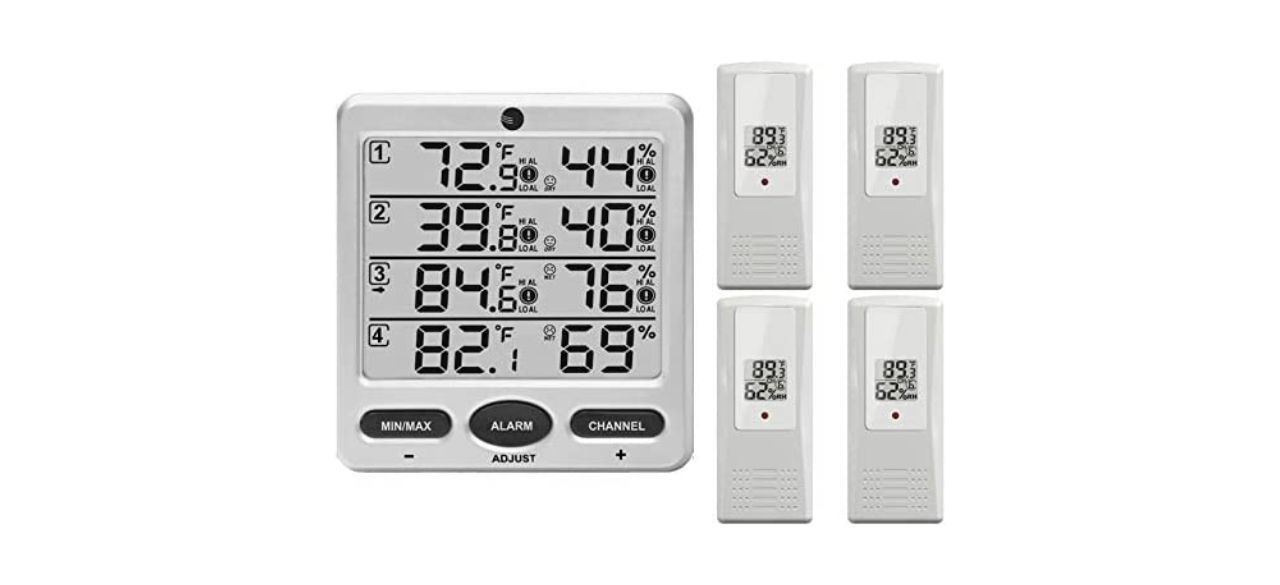 Ambient Weather Wireless Indoor/Outdoor 8-Channel Thermo-Hygrometer
This set comes with four remote sensors and can support four more. The monochrome LCD display shows current, minimum and maximum temperature and humidity, and includes visual and audio alarms you can preset.
Sold by Amazon
Top indoor/outdoor thermometers over $100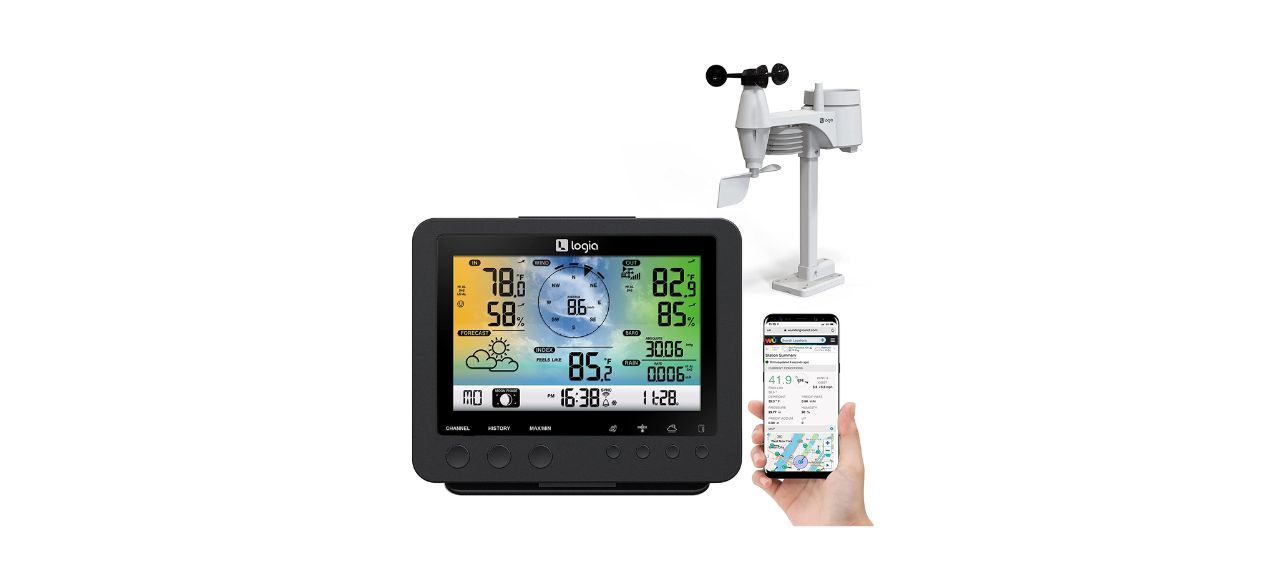 Logia 5-in-1 Indoor/Outdoor Remote Monitoring System
The sensor unit sits on a pole or railing up to 492 feet away from the LED color base station. In addition to temperature and humidity, you get barometric pressure, rainfall and rain rate, wind speed and direction, time, temperature and date.
Sold by Amazon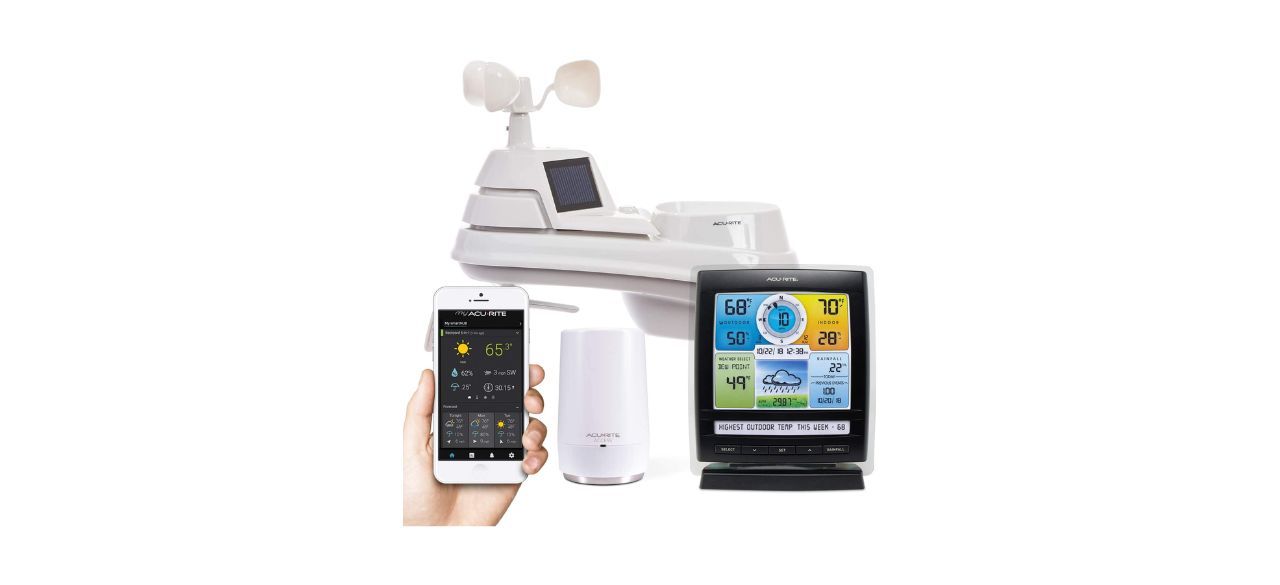 Acurite Smart Weather Station with Remote Monitoring
This device works with Amazon Alexa. It collects and stores temperature, humidity, rainfall and wind speed and direction data. It delivers 24-hour forecasts on demand and allows you to share data with online communities, including Weather Underground.
Sold by Amazon
Want to shop the best products at the best prices? Check out Daily Deals from BestReviews.
Sign up here to receive the BestReviews weekly newsletter for useful advice on new products and noteworthy deals.
David Allan Van writes for BestReviews. BestReviews has helped millions of consumers simplify their purchasing decisions, saving them time and money.
Copyright 2023 BestReviews, a Nexstar company. All rights reserved.