Shock trick-or-treaters with Walmart's over-the-top Halloween yard décor
You can find just about any kind of decoration at Walmart, from the knickknacks you scatter on your tables, shelves and mantel to the gargantuan inflatables that take up practically your entire yard. If you're reading this, then you're the type to appreciate the latter approach. Don't worry, there's plenty to choose from besides inflatables and there are plenty of styles choose from, from the classical "spooky but not scary" to family-friendly to basically a real-life murder scene.
Shop this article: Fun World Reaper With Staff, Outsunny Halloween Talking Circus Clown, and DiiKoo Giant Halloween Inflatable Witch Holding Pumpkin.
Yard décor types
There are six types of yard decorations you can take advantage of this Halloween.
Entryway
Entryway decorations are what greet you when you come home and the last thing a trick-or-treater or party guest sees when they get to your door. If your yard decorations are the setup, then the entryway decorations are the punchline. Examples include doormats, wreaths and banners.
Hanging
Hanging decorations are anything that's based in the air. They can hang from trees, your home or bars you might add to your yard just for them. Don't neglect hanging decorations, even if you think they're too much effort, because they're a key part of transforming your yard décor into a more full experience. Examples include bats, witches and ghosts.
Inflatable
Inflatable decorations are often the centerpiece of a yard, especially if you're going for a family-friendly atmosphere. You can use several smaller ones or you can go with a big one or maybe two if they aren't huge. Just be careful not to overpower the rest of your décor. Inflatables can take many forms, but are commonly pumpkins and ghosts.
Interactive
Interactive decorations are typically the most expensive because they require many moving pieces, including a triggering mechanism, such as motion, sound, touch or a combination of the three. These are almost always meant to startle and scare, so you might want to avoid them if the neighborhood kids are all young. They can be as large as a person or as small as a head.
Lights
Lights are tricky when it comes to decorating your yard for Halloween. In some cases, adding lights can illuminate things you'd prefer to keep in shadow for fuller effect. In others, it can add atmosphere such as using small red lights to highlight a blood-soaked lawn. Essentially, the scarier you want your yard to be, the less you're likely to use lights.
Ornamental
Ornamental decorations are all the little things you add to your yard so it doesn't look empty. This includes tombstones, little skeletons, spider webs and anything else that isn't a centerpiece and adds flavor. Like hanging decorations, they should never be neglected as they do most of the heavy lifting in transforming your yard.
October Prime Day: Here are the best early deals
Best Halloween yard décor from Walmart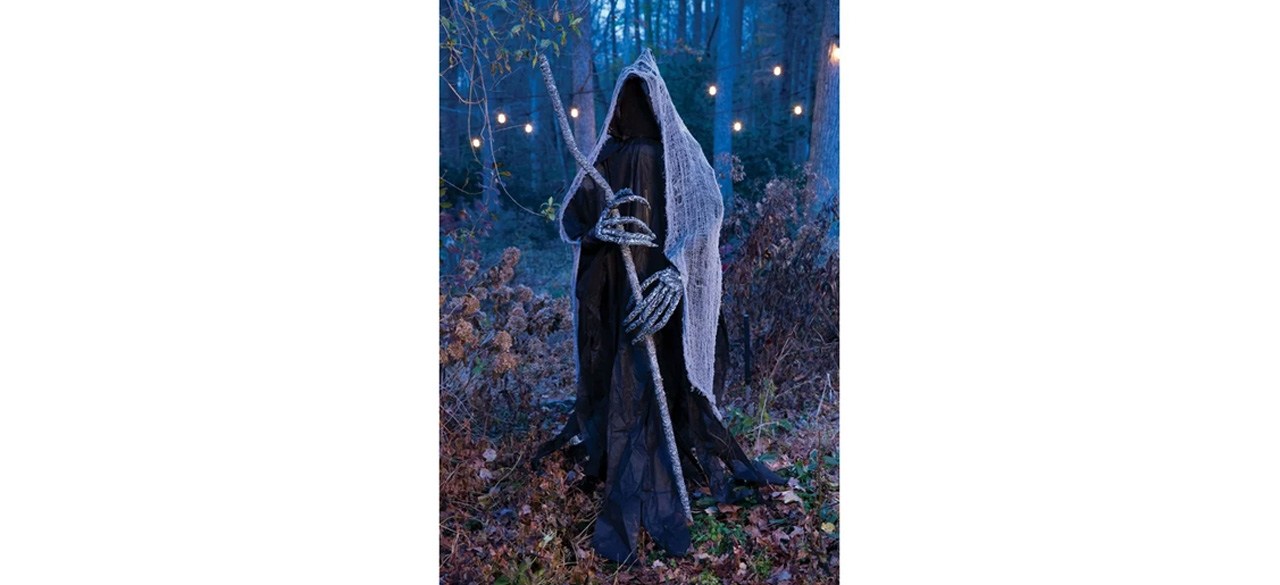 This isn't a scary yard decoration on its own, but it's absolutely the centerpiece of your next Halloween masterpiece. Just imagine it surrounded by gravestones and skeletons and lit with an ethereal light. Or, grab a second one and make them the guardians of your Halloween candy bucket.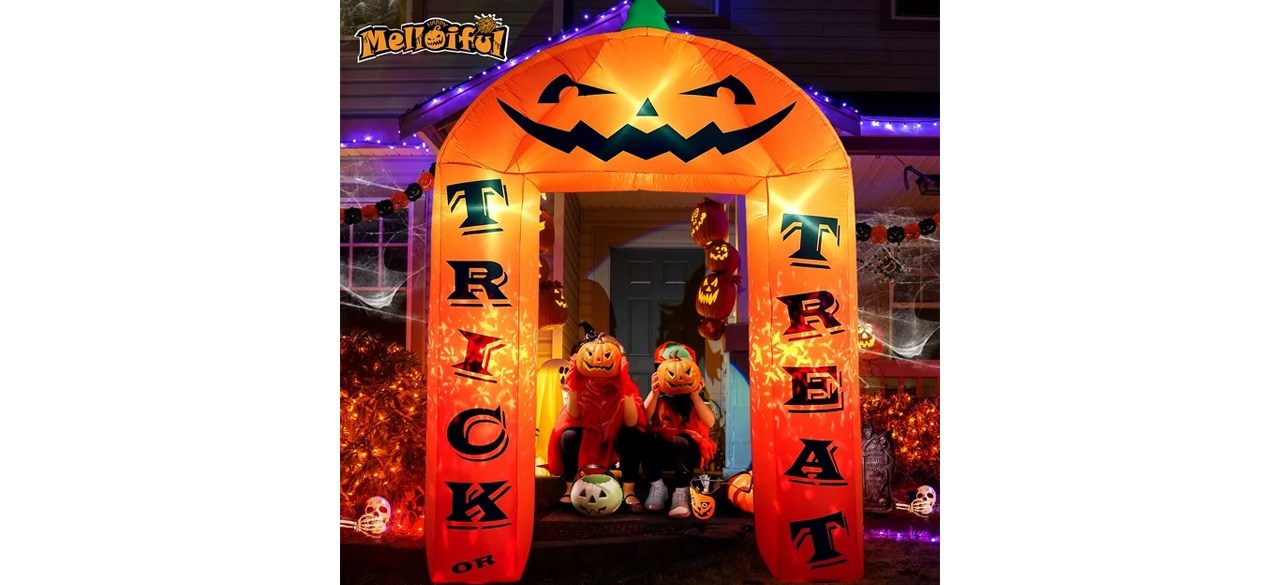 Melliful Halloween Inflatable Pumpkin Archway
This 7.8-foot archway is about as diametrically opposed to the above Reaper as it gets, making it the perfect choice for a family-friendly neighborhood. It has LED lights so the youngest trick-or-treaters won't be scared of a dark and unfamiliar place.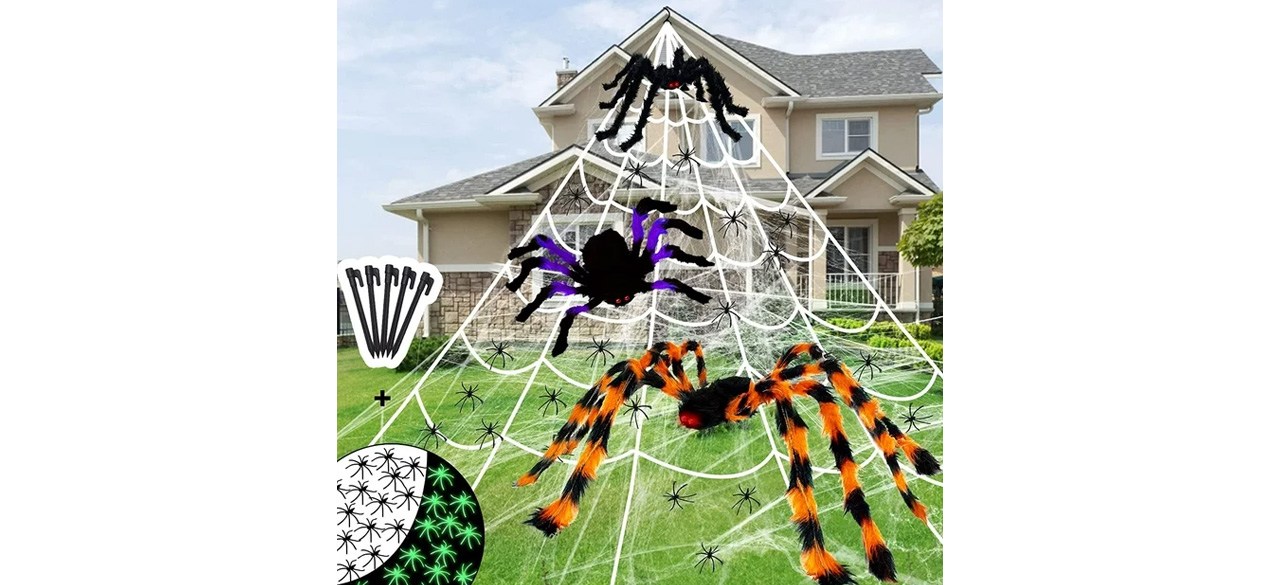 JoyX Halloween Giant Spider Web With Spiders
Most giant spider webs with spiders lean into the arachnophobic side, but this one is much friendlier thanks to two of the spiders being brightly colored and the legion of itty bitty spiders that glow in the dark.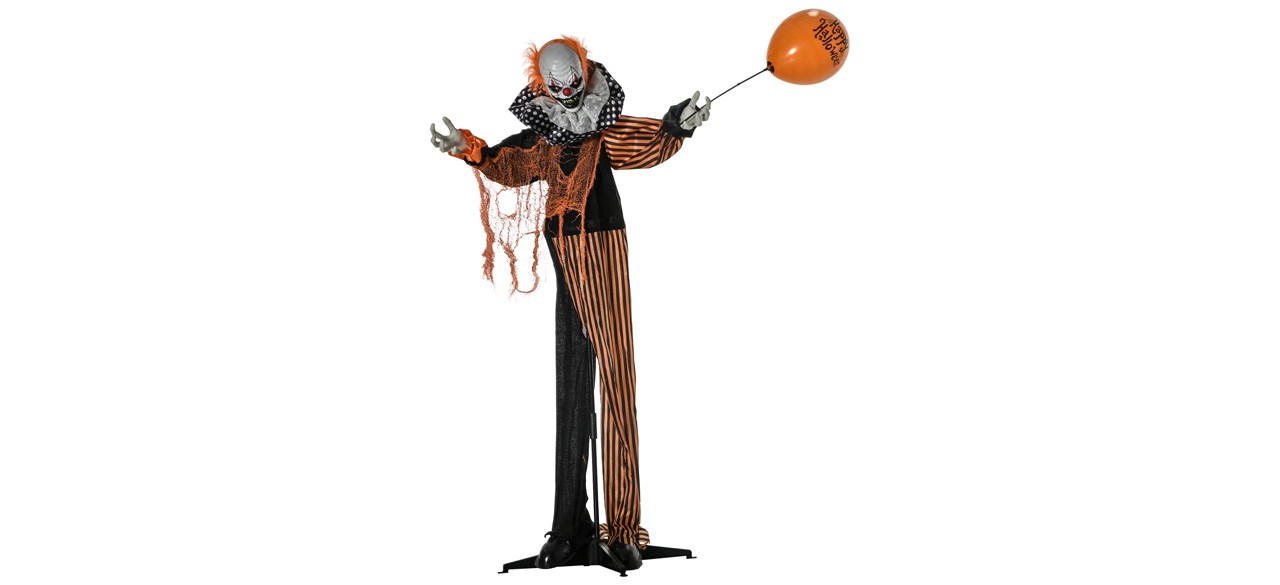 Outsunny Halloween Talking Circus Clown
Swinging right back into the scarier side of Halloween yard décor is this Pennywise-inspired clown. It lights up, moves its arms and actually talks and laughs, all of which is triggered by the loud noises of trick-or-treaters. It's absolutely terrifying to even the sanest individual.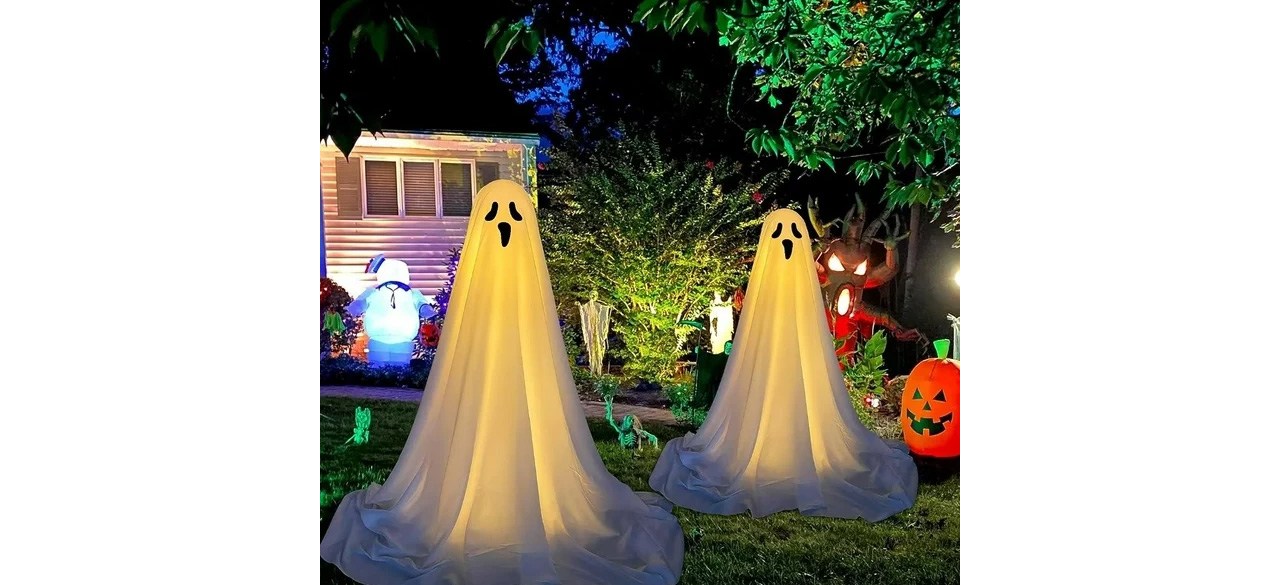 Roronova Spooky Halloween Ghost Two-Pack
These ghosts fall into the "spooky but not scary" decoration style. They can be illuminated at night and don't need to be plugged in like most decorations of the type since they're battery-powered. They're tall too, at 5.3 feet.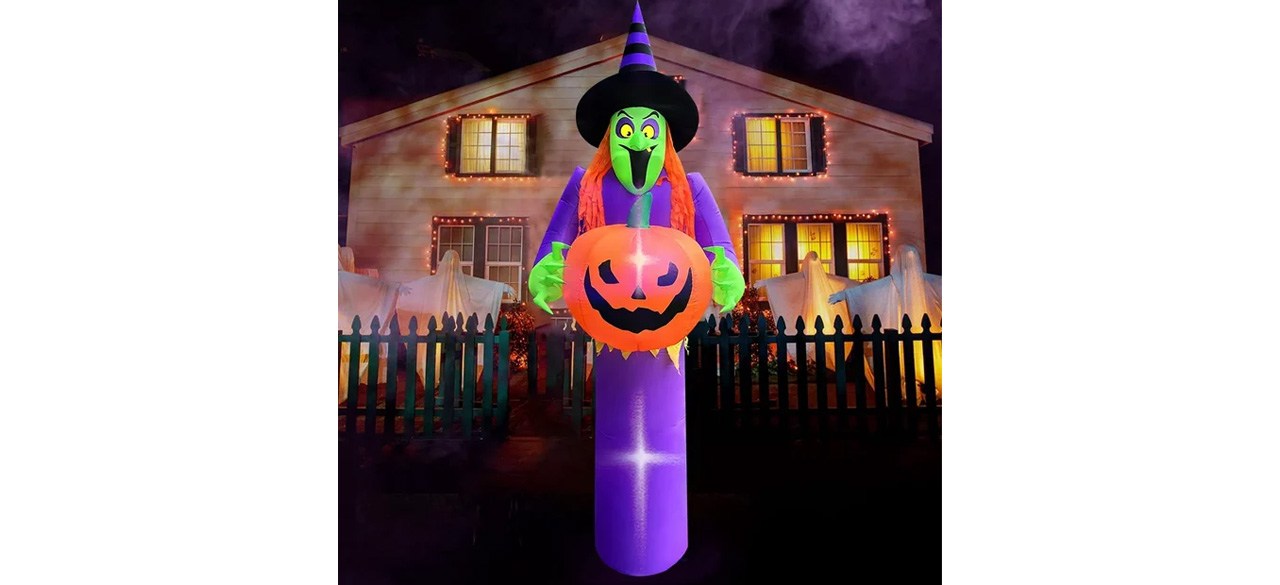 DiiKoo Giant Halloween Inflatable Witch Holding Pumpkin
Most extra-large inflatable Halloween yard decorations are large in width, not height. Not so this decoration, which has more in common with those inflatable stick men you see waving in the wind at car dealerships. It has LED lights too, so you can see it clearly at night.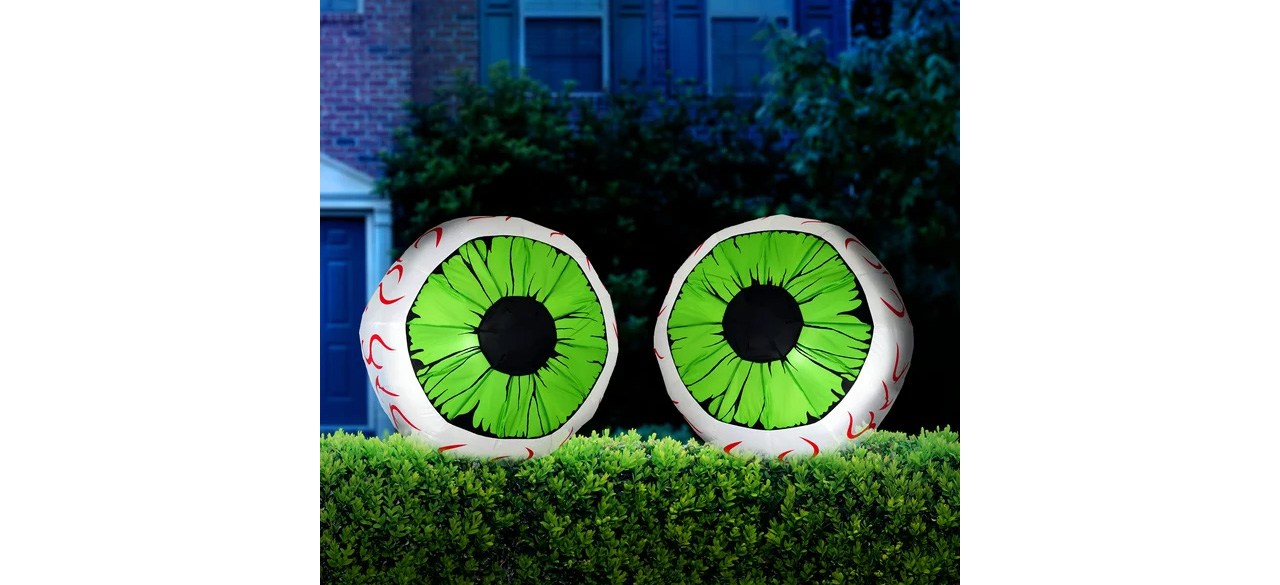 Joiedomi Huge Halloween Inflatable Eyeball Two-Pack
Each of these eyeballs measures about 3 by 3 feet, so they're substantial enough to be used separate from each other as Cyclops eyes if you want. Regardless of your plans, they're made of waterproof fabric and come with stakes and ties so you can leave them up in all weather.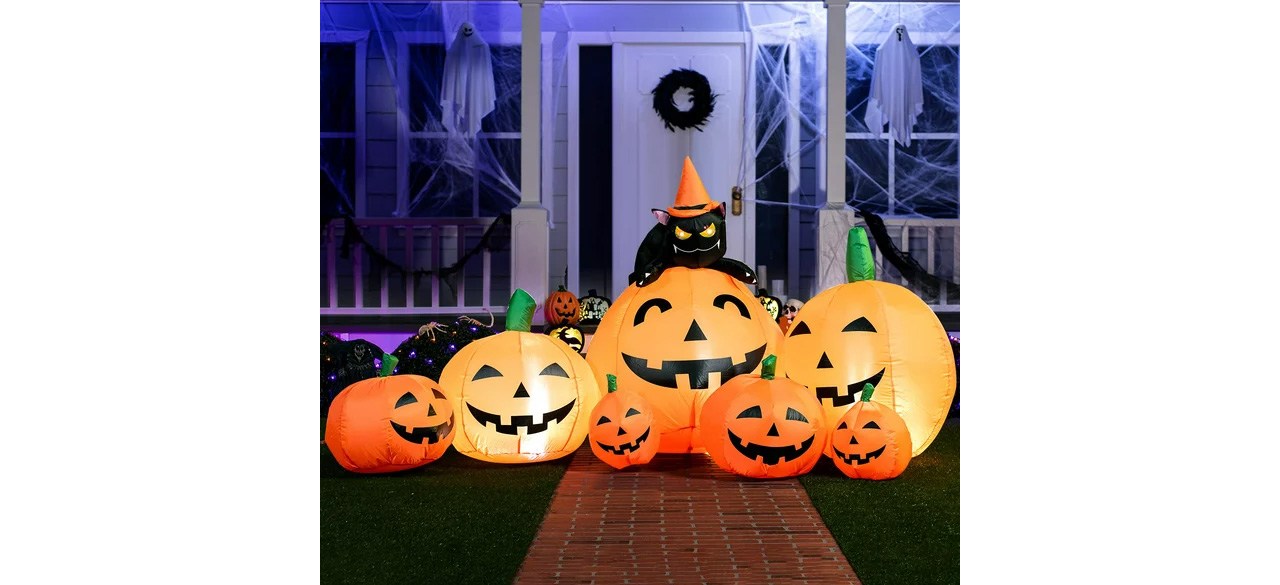 Joyin Halloween Inflatable Pumpkins
This adorable collection of pumpkins makes an excellent centerpiece for a family-friendly yard setup. The cat with an orange witch hat on top is the cherry … on top. Like the eyeballs, it's made of weather-resistant material and comes with a staking system.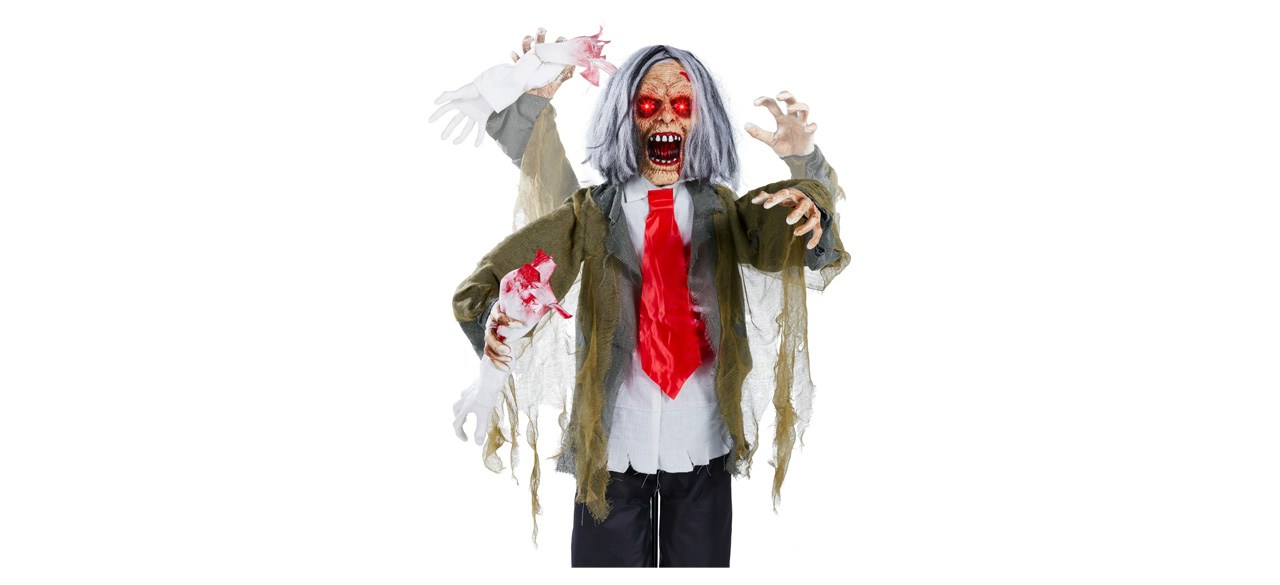 Best Choice Products Rotten Ronnie Standing Animatronic Zombie
Like the talking clown, this zombie also has motions and phrases and glowing eyes triggered by sounds, only it's more in keeping with the usual Halloween aesthetic. Its arms are poseable and it runs on three AA batteries so you can position it anywhere.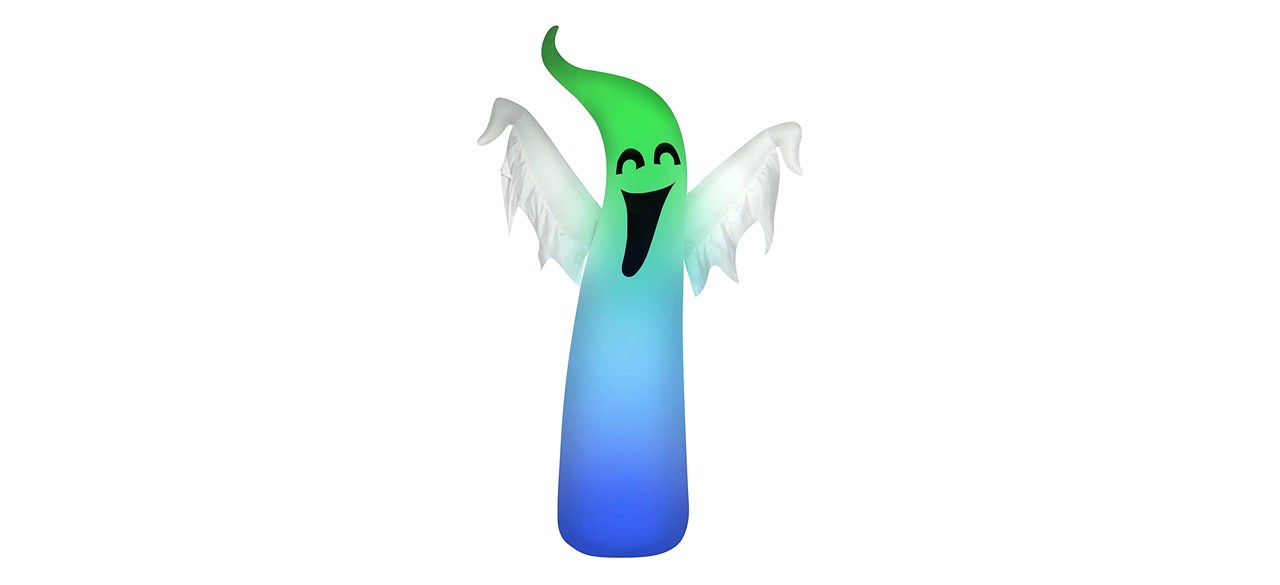 Occasions Inflatable Ghost Yard Decor
This cute, fun-loving inflatable has a beautiful blue-to-green color change that's backlit by bright LED lights. It's perfectly paired with other Halloween lights to make a gorgeous colorscape that's sure to be the envy of the neighborhood. It's 5 feet tall.
Walmart Halloween yard décor worth checking out
Want to shop the best products at the best prices? Check out Daily Deals from BestReviews.
Sign up here to receive the BestReviews weekly newsletter for useful advice on new products and noteworthy deals.
Jordan C. Woika writes for BestReviews. BestReviews has helped millions of consumers simplify their purchasing decisions, saving them time and money.
Copyright 2023 BestReviews, a Nexstar company. All rights reserved.