This is an archived article and the information in the article may be outdated. Please look at the time stamp on the story to see when it was last updated.
Drawing much unwanted attention for its high crime rate, Chicago has made headlines around the world with constant images of street violence. Now a group of inner city kids has decided to make a video from their perspective because they live it every day.
Some Chicago area teens joined the After School Matters "Tech-Kno Program" to learn how to work in film and video, but almost immediately the topic of gang violence surfaced as they shared their stories with one another.   They agreed that if they were going to make this video, they would draw on their personal experiences and hopefully send a message to others.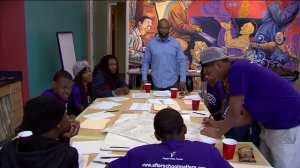 The classmates created the film Perpetrators, astory about what can happen when you aren't' true to yourself and choose the wrong path in life.
The 10 week course teaches, videography, editing and storytelling.
But the most important lesson may be what the students learn about life.
For more information on the project and to view their videos log on to:
MEMa Studio's Tech-Kno Camp Page
And
After School Matters/Tech-Kno Camp presents: "Perpetrators" on YouTube