This is an archived article and the information in the article may be outdated. Please look at the time stamp on the story to see when it was last updated.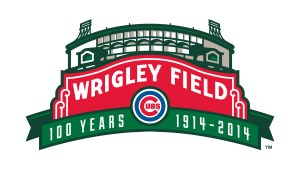 "There's been a lot of special things that have happened in this stadium over the long history of it and for my game on that list is a special special thrill. " Kerry Wood
On May 6, 1998, 20-year-old Kerry Wood turned in one of the most dominant single game pitching performances in the history of the game when he struck out 20 Houston Astros and allowed just one base hit in a complete-game 2-0 win at Wrigley Field. Wood gave up a single to Ricky Gutierrez in the third inning and hit Craig Biggio with a pitch in the sixth.  His 20 strikeouts tied the major league record for a nine-inning game, set twice by Roger Clemens (April 29, 1986 and September 18, 1996). Wood opened the game with five straight strikeouts and later had stretches of five and seven in a row. His stuff was electric, his composure amazing, and his performance simply dazzling.
Wood had been the savior-in-waiting since the Cubs took him with the 4th pick of the 1995 draft.  He didn't make the club out of spring training in 1998, but he made an impression. Not long after facing the Cubs that spring, someone asked Angels manager Terry Collins who he thought would win the World Series that year. He didn't miss a beat and answered, "The Cubs. If the Cubs have five pitchers better than Kerry Wood, they'll definitely win the World Series." 
Wood opened the season in Triple A but that trip to Des Moines lasted one start (in which he struck out 11 in five innings).
Jim Riggleman – Cubs manager:  Kerry Wood was our most dominant pitcher in spring training that year. We made the determination that he was going to start the year in the minor leagues. We stuck with that, then we had an injury to Bob Patterson, who was a reliever, so Ed Lynch called me and said we would put Terry Mulholland in the bullpen to cover the left-hander spot there and we were going to bring Kerry up.
Wood made four starts in April and came into May with a 5.89 ERA. In his last start he had thrown seven innings of five-hit ball against the Cardinals, but no one in the crowd of 15,578 who strolled into Wrigley Field on that gray afternoon were expecting arguably the greatest pitching performance in history. 
Kerry Wood: It was my fifth start. I'd seen Moises Alou and Jeff Bagwell. I grew up in Texas. You don't realize until later when they are at the end of their careers and you see their numbers.  You see what kind of team Houston had that year. Now looking back on it, Gracie quoted it and said it the best. Either I was too young or too dumb to know any better. There's something to be said about that. How many times do we mentally psyche ourselves out in an at-bat or versus a certain lineup? There's something to be said about being young and dumb. The one thing that sticks out in my mind is waking up and going to the ballpark, I really didn't feel that well. My energy level was way down and I thought I might be getting sick. I went to the bullpen and starting warming up and I thought, "This is going to be awful." I couldn't throw a strike and I thought it was going to be a bad day.
Barry Rozner  – Daily Herald columnist:  I was heading downtown to cover a Bulls playoff game that night and stopped at Wrigley to say hello to a few people. Needless to say I ended up not getting to the United Center and had plenty to write about from the North Side.
Carrie Muskat – Mlb.com writer: You never know what you're going to see here. Kerry Wood's game for example. It's a guy's fifth start – a crappy day, drizzly day, who knows what you're going to get? He goes out and strikes out 20 batters.  No clue. To me, that's the beauty of baseball. You never know what you're going to expect and then here constant here is Wrigley.
Bruce Miles – Daily Herald beat writer: My favorite game by far and I never hesitate, is Kerry Wood's 20 strikeout game.  1998 was my first year full-time as the beat writer on the Cubs. It was about a month into the season, I had met Kerry in spring training, was at his first game in Montreal, a shy kid, a big raw-boned kid, epitomized the word "phenom", the kid from Texas, the flaxen-haired kid who threw hard and was raw-boned.
Pat Hughes:  Amazing. His fifth start. It is the best pitched game I've ever seen as a big league announcer and I've covered over 5,000 games. I've covered no-hitters, but Kerry's one-hitter that day is the best game I've ever seen pitched. Unbelievable control. He was throwing close to 100 mph.
Kerry Wood:  The game started and before I knew it, I struck out the first three hitters. Then, I looked up at the scoreboard and we were in the fifth or sixth inning and I felt like I had only pitched an inning or two. I felt like I got caught up in the moment and was so locked in I wasn't paying attention to anything that was going on around me. It was one of those days where it was my day.  Honestly it felt like I was playing catch out there. The game just slowed down. I took in everything. I was able to look around and enjoy the fans that were doin' it up. Not too many times when you're out on the hill does the game slow down that much where you can really take it all in. For whatever reason, that day is seemed like everything was kind of in slow motion.
Barry Rozner: It was clear very early in that game that Houston had no chance and this was a lineup a couple of guys who are going to be in the Hall of Fame several All-Stars and some great hitters and Kerry Wood was making them look sick.
Bruce Miles: We had a damp, dank day that day, about 15,000 people here. Kerry strikes out the side here in the first inning and I can tell you, people were looking at each other going "ooh" something special could happen here today.
Mickey Morandini – Cubs second baseman:  You could tell early on his breaking ball was really moving and with the velocity on his fastball, he was going to be tough to hit. I've never seen a curveball break as much as his was breaking that day. When you have good hitters coming up and he's making them look pretty silly with his breaking stuff. You know that he's got some electric stuff going on. It was a pretty special day to see him do what he did.
Pat Hughes: His breaking ball was breaking life a whiffle ball, the ones without holes you used to throw into the wind as a kid and it would break 12 feet!    That's almost what it looked like Kerry Wood was doing that day against Houston.
Next door to Hughes, former Astros pitcher Jim Deshaies was calling the game for Houston television while sharing reactions through the window with Chip Caray and Steve Stone in the adjoining Cubs TV booth.
Jim Deshaies: Rarely do you come across a game at this level where the guys are so good where one guy can dominate that much. Typically there's always a battle somewhere. There's a crisis point for a pitcher in the middle of the game with a couple guys on where one big swing can change it. With this one, no. That was not going to happen. There was no chance.
Steve Stone: Watching how the Houston Astros approached him that day, for one day in the life of Kerry Wood, he probably understood how it felt to be godly as far as a pitcher is concerned, because they didn't touch the ball. They didn't get close to another hit. It was impossible.
Chip Caray: What was so amazing about it was how unexpected it wa. I remember the day. It was a cold, misty, soggy day at the ballpark. The visibility wasn't particularly good, but very early on we knew Kerry had unbelievable stuff. His slider was breaking two feet, his curveball off the table, his fastball was exploding past hitters.
Wood struck out five of the first six batters he faced before Ricky Gutierrez led off the third with a weak grounder that glanced off third baseman Kevin Orie's glove for a dubious hit. 
Barry Rozner:  All you have is a nubber off of Kevin Orie and you're talking about a no-hitter and you're talking about maybe the greatest pitched game in the history of baseball.
Kerry Wood:  The only hit was when I threw a hanging, back-up breaking ball to (Ricky) Gutierrez and he jam-shot it into left field between third and short. Believe me, when Ricky came here to play shortstop, I never heard the end of that. He brought it up at least twice a week!
Bruce Miles: I remember the only hit of the game. Ricky Gutierrez joined the Cubs a few years later. We were in Mesa for spring training and they were showing that game on the clubhouse TV. Kerry's ball was moving like a whiffle ball with the slurve he threw. Ricky walked by the TV and said "I got a hit off that sorry so and so."
In the WGN TV truck, Arne Harris was directing the game along with Pete Toma as his producer and Marc Brady as the associate producer. Both Toma and Brady had just joined WGN, so the broadcast crew was still finding their way after having done only a handful of games together.
Marc Brady – WGN Sports: Because the no-hitter was broken up early,  it was all about the strikeouts for us.  Arne was giddy like a fan after Kerry had nine strikeouts. Arne knew something special was happening.   There was no scorebox back then so he used the fans in the bleachers holding up K signs to show the number of strikeouts. I still remember there  was a fan in this awful Phoenix Suns jersey  – that always stands out from that cloudy day.  I was still learning on the job a bit and had no clue during the game the magnitude of what we were witnessing.
The weather went from gloomy to rainy as the game went on, raising worries that a rain delay would derail Wood's gem. There was no delay and there was no stopping Wood. 
Kerry Wood: The weather was pretty bad and I remembered thinking they might have a chance to call it around the 7th when I slipped on the mound, but even then the ball kept going right where it needed to. Again, it was just my day.  I remember slipping four or five inches on my landing foot and sliders were still going to the glove.  It was one of those days where it literally felt like I was in the back yard playing catch.
Steve Stone: I'll never forget Derrek Bell trying to hit curveballs and he looked like he was chopping wood, because he would see the ball up there and the ball would be down there and I mean, no chance whatsoever.
Jim Deshaies:  I've never seen anything as dominant. That slider that day was breaking three feet. That was a team that won over 100 games and went to the playoffs. There was a lot of firepower on that club, but most of them right-handed.  They had no chance.
Kerry Wood: I don't really remember if the guys were talking to me. I didn't know most of the guys, because I'd only been up for a couple of starts. I'm pretty sure they weren't. Sandy Martinez was my catcher that day so we were speaking, but it limited to that. I think that's the first game he caught me. Scott Servais was our regular catcher. I'm not sure what happened, but we were on the same page for a couple of hours. I was in a zone like that maybe twice, that day and honestly the game I pitched in Triple A before they called me up I think I pitched 5 innings and struck out 12. It was the same kind of feeling. I got close, but I don't think I ever made it last nine innings like that again.
Bruce Miles: Even though the place wasn't packed you could feel the electricity and you could feel the excitement build inning by inning by inning until we reached the ninth inning and Kerry got the winning strikeouts. The place just went up for grabs.
Pat Hughes: I was working with Ron Santo and in the 9th inning Kerry was getting close to some records. He set the National League record for most K's and getting close to Roger Clemens MLB record. The tension and the drama and the excitement at Wrigley here at the first week in May. I said to Ronnie "this feels like a World Series game" and he said "if this kid keeps pitching like this we're going to be in a World Series."
Carrie Muskat:  It was just so unexpected. I remember seeing the kids with K signs out in the bleachers and that was so unexpected. When I see replays now and I see how young Woody is, it just cracks me up.
The victims:
1st – Craig Biggio (swinging), Derek Bell (swinging), Jeff Bagwell (called)
2nd – Jack Howell (swinging), Moises Alou (swinging)
3rd – Brad Ausmus (swinging)
4th – Bagwell (called), Howell (called)
5th – Alou (called), Dave Clark (called), Ricky Gutierrez (called)
6th – Shane Reynolds (called) 
7th – Bagwell (swinging), Howell (swinging), Alou (swinging)
8th – Clark (swinging), Gutierrez (swinging), Ausmus (called)
9th – Spiers (swinging), Bell (swinging) 
Wood threw 122 pitches, 84 for strikes.
Kerry Wood: Derek Bell made the last out and we went back to Houston later in the season. He came up to me and said he wanted me to get it and I called him on it.   He said he wanted me to get it and that's why he was swinging like that. I thought that was pretty funy. Bagwell and those guys, there's a respect and I respect what those guys have done in the game. When you respect the game, the veteran players tend to have a little respect for you. Those guys were great. Looking back on it, that was a pretty good lineup. At the time you don't think about it. I was young enough and dumb enough not to know what I was doing. Looking back on it, I'm glad I'll be able to show my son that tape.
Pat Hughes:  No walks. Who has that kind of control. I don't think I'll ever see a better-pitched game in my life.
Steve Stone:  I've seen major league hitters strike out a lot, but I've never seen them miss curveballs and sliders and fastballs by as much as they missed the ball that Kerry delivered that day. It was one of the most overpowering, one of the most dominant games I had ever seen.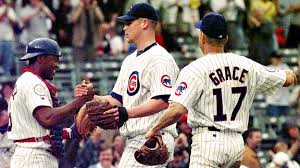 Kerry Wood: That's when the chaos started. I was calm and collected during the game. As soon as that last pitch was made, a lot of stuff changed in my life. About 45 seconds after I punched out the last guy, WGN-TV grabbed me for a post-game interview. My hand was shaking as I was holding the mike – I really didn't know what was going on. I didn't know I struck out 20 until Stoney mentioned it when he was interviewing me. I made the last pitch, got mobbed by my teammates, then I was trying to hold a microphone in my hands and earpiece in my ear while I tried to figure out what was going on. The adrenaline was still racing. I was lucky I didn't get the shaving cream treatment while doing the interview, but all my teammates were still on the field.
Marc Brady: Arne was telling us that he had to be the guy on the field to grab Don Cardwell for a live interview after his no-hitter (in 1960 at Wrigley) and that it was going to be my turn to go out there today. Get Kerry! There was a sea of media that converged on Kerry after the last out, but I threw a few elbows and got a few glares, and guided Kerry over to our third base camera. My hands were shaking as I tried to hand him the earpiece so he could talk with Chip and Steve, then I noticed his hands were shaking too. When I got back to the truck, Arne said "Great job Pal." That made the day even more special.
Wood became only the second pitcher in history to strike out as many men as his age (17-year-old Bob Feller also turned the trick for Cleveland).
Kerry Wood: I appreciate it now, because when you're a 20-year-old kid you're this is easy! I'm going do it again next week. I'm going to do it again in 4 days and you think that.
– Bob Vorwald