This is an archived article and the information in the article may be outdated. Please look at the time stamp on the story to see when it was last updated.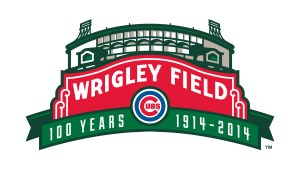 On May 13, 1960, the Cubs traded away Tony Taylor and Cal Neeman and received Cubs right-handed pitcher Don Cardwell and Ed Bouchee. Two days later, the Cubs new pitcher took the mound in the second game of a double-header and electrified the big Sunday crowd with a surprising no-hitter.
Don Cardwell: I had been traded on Friday the 13th, but that certainly was not a bad omen two days later. Coming over to a new ballclub, you try to do your best.
It didn't take long to see that Cardwell was on his game. Only nine days earlier had pitched six innings of no-hit ball against the Dodgers. Coach Elvan Tappe reported that he had a swollen hand after catching Cardwell's warm-up. He walked Alex Grammas, the second batter of the game on a close pitch, then used a blazing fastball to set down 26 Cardinals in a row.
Cardwell: I said "Alex, how did you take that pitch?" He said, "I never saw it".
Jack Rosenberg – WGN Sports Editor:  On that particular day, I have never seen a pitcher throw a baseball any harder. That would include Koufax and all the rest.
George Altman – Cubs right fielder:  He could throw hard but I think the main thing with his ball was it had movement, especially on that day.
Ernie Banks -Cubs 1st baseman: He was in really good spirits and throwing the ball well. Playing behind him, the feeling, the tension, the emotion was really going. It uplifted me and I was just so inspired by it. I was really focused and I hit a home run in the game.
Cardwell: I think I had a great catcher in Dale Rice. He came out early in the ballgame and asked if there was anything I wanted him to call. He was an experienced catcher and I said "you call the game".  As it turned out, he called a pretty good ball game.
Del Rice – Cubs catcher (from the next day's Chicago Tribune): We worked around his fastball the whole way. It's a great one. Before the game , I asked him what he threw and he said a fastball, curve,slider, and change. I told him I had never seen his slider so we wouldn't use it – and we didn't.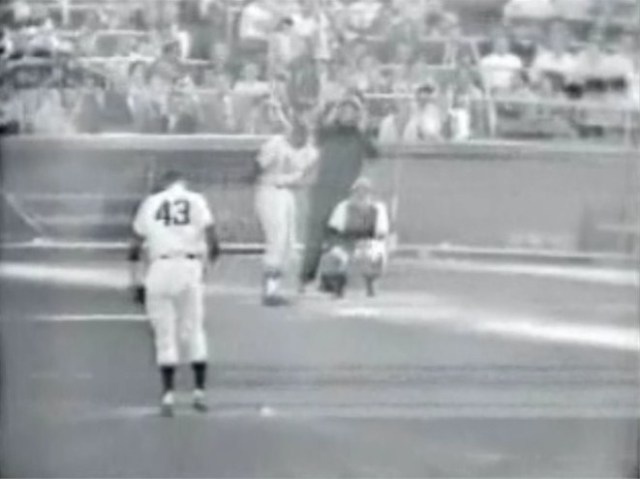 Stan Musial was sent up as a pinch-hitter with two out in the 8th and Cardwell blew him away, with strike three eliciting an impassioned "Holy Mackerel!!!" from Vince Lloyd in the TV booth.
Stan Musial (from the next day's Chicago Tribune): I just swung at the sound. This guy had great stuff. I never saw anything like it.
Banks: Later on, I saw Stan Musial and he was in that game. He was telling me, "boy, you remember that game when Cardwell pitched the no-hitter against us. I was up there swinging at sound." He was throwing the ball so hard and with so much stuff on it that they couldn't hit it.
In the WGN booth, Lloyd read a live commercial for Oklahoma Oil, then scurried down to the field, hoping to do a live interview after the game. The season's biggest crowd of 33,543 watched anxiously as Carl Sawatski opened the ninth inning with a screamer to right, but George Altman was able to back up to the doors along the wall to keep the no-hitter alive.
Cardwell:  At the end of the ballgame you had my man in right field, George Altman, and George was about 6-4, 6-5 a basketball a college player and he can jump. He did get back and he did get into the vines over there.
Altman: At that time normally I probably would have been a little more cautious about that wall but knowing that my teammate had a no-hitter going I had to catch that ball at all costs so I went back and jumped up against the wall and thank goodness for the ivy and was able to make the catch.
George Crowe flied out to Richie Ashburn in center, leaving Cardwell with one out to get and an unlikely hero to make an unforgettable play.
Cardwell: The savior was the play that Walt Moryn made for the last out. People would say he wasn't agile and I say I don't think so either, but he sure did a fine job didn't he? The last play of the game, Joe Cunningham was a good left-handed hitter for the Cardinals and he hit one of those semi-line drives to left field and your head just pops instantly when you see it's going that way. And here is Moose (Moryn), and he's coming. I had never played with Moose except watching for a couple days and he made a great catch. Then all you know what broke loose.  There were all kinds of people coming onto the field and the ushers couldn't hold them back.
Altman: Moose wasn't the fastest runner so I was afraid that he might not get to it, but he got to it and made that catch right off the shoe tops. He was excited about the no-hitter too and he was going to make that catch at all costs.
Rosenberg: I still remember it as if it were yesterday on the final out where Joe Cunningham hits a fly ball that is sinking to left field and Jack is about ready to jump out of his chair. I can hear Jack yet 'c'mon Moose!' Moose Moryn scoops that ball up for the no-hitter and what a mob scene at Wrigley Field.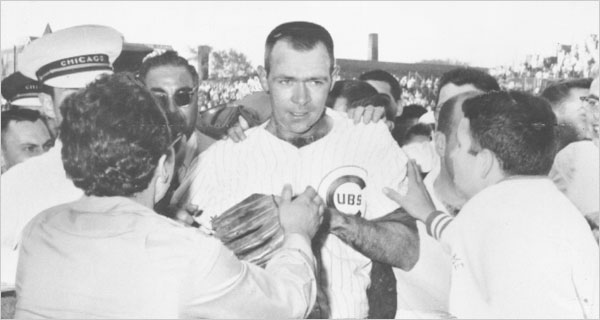 As the crowd stormed onto the field to mob their new hero, Cardwell had more trouble getting to the locker room than he did with the Cardinals.
Cardwell: I was with Vince Lloyd and I didn't want to hurt anybody. In those days we had metal spikes. I wanted to get away because they clustered us. Vince Lloyd was down on the field and he said 'Don, let's get out of here before somebody gets hurt – me!'" After a chaotic postgame interview on WGN, it took Cardwell twenty minutes to make his way down the left field line to the Cubs locker room.
Cardwell threw only 93 pitches in the 4-0 win. Game time was 1:46 before a crowd of 33,543, all of whom seemed to rush him on the field.
 Cardwell: It was a great feeling. You didn't realize it until later because you really didn't have time to let it sink in, then you say "there it is. It's a no-no." It's something that you will never forget. If everybody you meet who says they were there, that ballpark would have to have held over 100,000 people.
– Bob Vorwald