This is an archived article and the information in the article may be outdated. Please look at the time stamp on the story to see when it was last updated.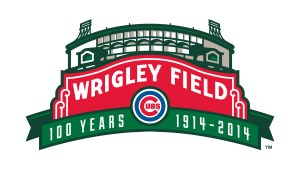 On April 16, 1972, making only his fourth major league start, 22-year-old Burt Hooton electrified a chilly crowd of only 9,583 at Wrigley Field with a stunning no-hit win over the Philadelphia Phillies 4-0.
It was only the second game of the season for the Cubs because of the players' strike that spring. Cubs vice-president John Holland almost cancelled the game that day due to the wet conditions and a bitter north wind, but there was a good advance ticket sale so the game went on. The few fans that stuck it out were rewarded with a gem delivered by the Cubs top draft pick out of the University of Texas.
"The things I remember were that it was cold, damp, and the wind was blowing in from the north,"said Hooton. "Somebody (Denny Doyle) hit a line drive and Don Kessinger jumped up to make a real nice catch on it. I remember Greg Luzinski hitting a ball that I thought was out of the ballpark, but of course the wind kept it in the park and Rick Monday caught it in the ivy just in front of the basket."
Randy Hundley was behind the plate and happy to be a part of history after having missed both of Ken Holtzman's no-hitters. "It was a pretty chilly day," he said. "It was cloudy, a little bit nippy, and a little bit damp too. It had rained some. The wind was blowing in and Hooton had this knuckle-curve ball that was unbelievable. How he threw it I have no idea. But he pushed the ball out with his knuckles and the ball just turned over and got to the plate and boom! Just like rolling it off the table. He had pretty good command of his fastball. He didn't have much speed, but he could throw it in and out. We just dazzled them that day and what a thrill it was."
Hundley guided Hooton in and out of several jams as he walked seven Phillies through the first eight innings. On another day, Cub manager Leo Durocher might have lost patience with the rookie who struggled with his control, but Durocher was home sick with a virus and acting manager Pete Reiser let Hooton continue.
Hooton was at his best in the ninth inning. Willie Montanez grounded to Glenn Beckert at second, then Deron Johnson flailed at Hooton's knuckle-curve for a strikeout to set the scene for Luzinski to get another crack. The Bull went down swinging and Hooton was now the one who was overwhelmed. "I walked seven guys, so the best inning I actually had was the ninth inning. That was a three-up, three-down inning with two strikeouts. After it was over, I didn't know what to do."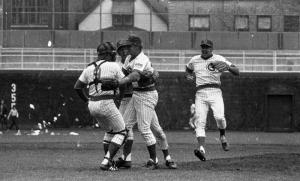 Rick Monday played center field that day and tracked down Luzinski's seventh inning blast, but got more of a kick out of watching television when he got home. "My biggest memory of Burt Hooton's no-hitter was not the day of the no-hitter, it was the evening of the no-hitter, and here's why," he said. "Ernie Banks was doing some sports on WGN Television and he came on that night when they went to the sports segment. Ernie says it was a big deal at Wrigley Field and he goes on and all of a sudden you see Ernie on camera and he says 'at Wrigley Field, everybody was rootin' and tootin' for Burt Hooton.'"
Handling the instant fame turned out to be Hooton's toughest task that day. He went 8-14 for the Cubs that season and after two more losing years was traded to the Dodgers in 1975 where he flourished and pitched in three World Series.
-Bob Vorwald (excerpted from "Cubs Forever" available from Triumph Books)