This is an archived article and the information in the article may be outdated. Please look at the time stamp on the story to see when it was last updated.
A woman is charged with being drunk when she crashed her minivan on an expressway Wednesday morning.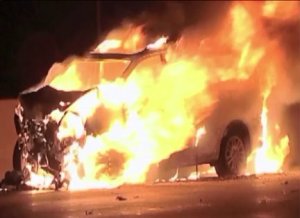 31 year-old Regan Kotz, of Burr Ridge, was driving north on I-290 in Elk Grove when she went off the road and hit a pole. Her minivan then went across all lanes of traffic, plowed into a median, and burst into flames.
Austin Ketelsen had just seen "Fast & Furious 6," saw the accident, and pulled over. He urged her to get out from the burning vehicle.
"Her face was all bleeding.  I can tell she was rummaging for something, maybe her phone, and we're like 'Miss, your car's on fire you need to get out," said Ketelsen. "I asked if she had any kids or pets in there, and she said no.  Then I said you gotta get out of here, your car's on fire."
She's now hospitalized with minor injuries.