This is an archived article and the information in the article may be outdated. Please look at the time stamp on the story to see when it was last updated.
WAUSAU, Wis. (AP) — A father of eight was killed in a crash Friday as he drove his pregnant wife to the hospital.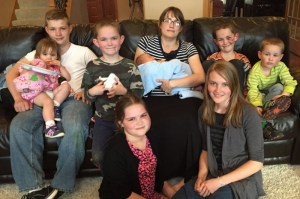 Michael Rogan was taking his wife Niki and their children to the hospital to deliver the couple's eighth child when a deer struck their van windshield on a rural highway in Marathon County.  The 42-year-old father was killed. Niki and the children, ages 2 to 15, suffered minor injuries.
All were taken to a hospital, where Michael Rogan was pronounced dead. His wife gave birth to a healthy boy hours later.
Dominic and Cecilia Gruetzmacher, who are friends with the Rogans from church, set up a GoFundMe account on Friday to help the family raise money to replace their vehicle, pay for funeral costs and allow Niki to continue to home-school her children.
As of Wednesday morning, donors had contributed more than $350,000 to the fund.
"I never expected it to take off like this," Cecilia Gruetzmacher told the Wausau Daily Herald.
According to the GoFundMe page, Rogan served in the U.S. Marine Corps and was promoted to sergeant while remaining on with the Reserves.
"He was very proud to have served his country," Dominic Gruetzmacher told the Wausau Daily Hearld. "I always looked at him as serving his family the same way — that fidelity, that dedication."
Donate to the family fundraiser on gofundme.com